SBS drama Rooftop Prince has deeply attractive as audience searches for hint foreshadowing later developments in the story.
A netizen who called himself as 'Crown Prince CSI Official' made a thorough analysis on the meaning of the name of the protagonists in the drama and jewelry, surprised the production team.
These hidden hints were searched from Rooftop Prince broadcast in episode 2 on March 22nd, 2012 when Park Ha (Han Ji Min) entrusts the ancient clothes of crown prince and the gangs to a laundry, which is related to possibility of back to the future through clothing in The Woodcutter and the Fairy. And it's also speculated that the place where Hwa Young (Jung Yoo Mi) passed away, Bu Yong Court, is associated to the name of Han Ji Min in the drama, Bu Yong that may contain some meaning.
The hints foreshadowing the future plot development of Rooftop Prince were posted of many websites. Netizens said, "I re-watch episode 1 and 2 while searching for hidden meaning, feeling refreshing," "I thought it's a light and easy romantic comedy, after watching I feel every scene has its own meaning," exclaiming over the meticulous filming of Rooftop Prince.
Production official said, "In fact, there are many unexpected hidden hints that audience did not realize in Rooftop Prince, although it's like other light and easy romantic comedy, but it's also a reasoning thriller with lots of foreshadows. Quite surprised that it was found by audience."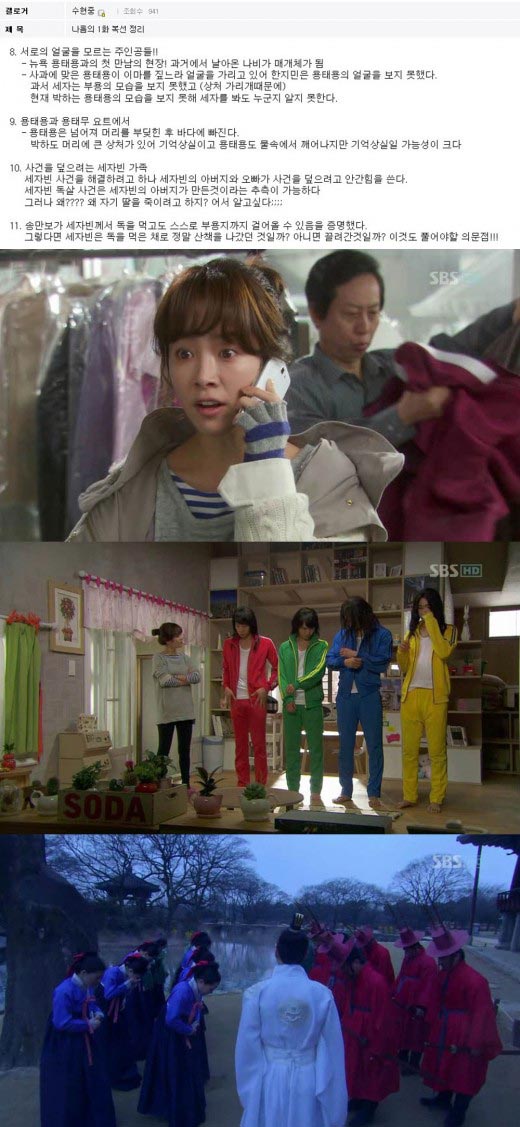 In addition, Lee Gak (Park Yoochun) mistakenly thinks that he's reborn as Yong Tae Yong, and tells his grandmother president Yeo (Ban Hyo Jung) that he is Yong Tae Yong, raising the tension to climax. Rooftop Prince broadcast its episode 5 on April 4th, 2012.
via Nate