SBS' Rooftop Prince officially enters the phase of hilarious plot, causing the unusual reaction of the audience.
The funny acting by Park Yoochu, Jung Suk Won, Lee Min Ho and Choi Woo Sik, and passionate acting by Han Ji Min in episode 2 have started to threaten the rival MBC's The King 2 Hearts broadcast at the same time.
On the day's broadcast, crown princess (Micky Yoochun) and the trio were shocked by the high-rise buildings and lighting at the downtown Seoul, and they later did a variety of dumbfounded things in order to return to the palace. The gang who reunited with Park Ha (Han Ji Min) later watched the archery scene in the TV, scared until breaking the home appliance. As such, Park Ha has no choice but to live together with crown prince.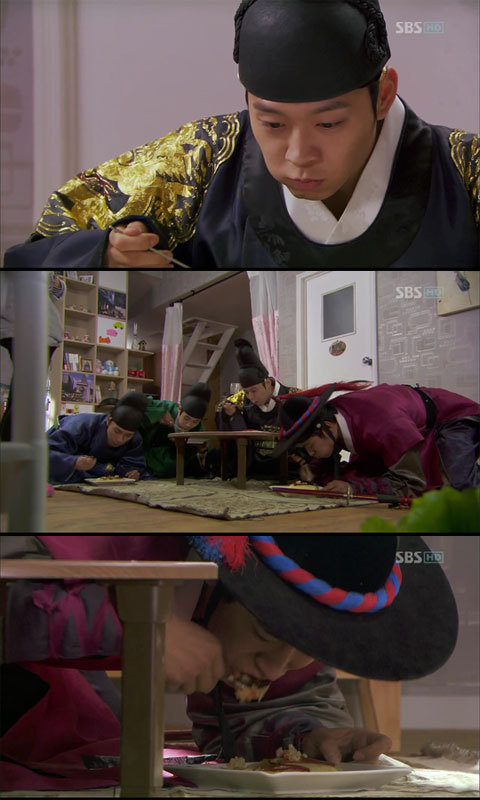 The gang of four who has been hungry for two days tasted the omelet rice for the first time in their life. When the crown prince said, "I feel happy in this place for the first time," the momentary live ratings hit the highest 13.5% (based on AGB Nielson for Seoul metropolitan area), showing that the audience was attracted by the funny crown prince.
After episode 2 was aired, the response of audience was very enthusiastic. "Long time never laugh together like this with husband who has different taste on drama. Previously it's hard to watch TV series together, but now he watched for a while and burst into laughter," "Husband and son who watched with me rolled in the aisle. Relieve stress, relax the feeling… the highest goodness brought by TV series to viewers," "Really funny the scene at convenience store" and so on.
Crown prince bumped into the photo of Yong Tae Yong who looks exactly like him. The rising of tension when the grandmother of Yong Tae Yong (Bae Hyo Jung) meets the crown prince Lee Gak will broadcast its third episode on March 28th, 2012.