The popular SBS weekend drama "Scent of a Woman" concluded the airing and closed its curtains with a touching happy ending. Actually it's a grand finale with no real definitive ending, allowing viewers to imagine what exact ending that they wants for loving couple in the drama. Such ending style has been a trend for dramas that have characters down with terminal illness in order to avoid heartbreaking tragedy and absurd misdiagnose plot.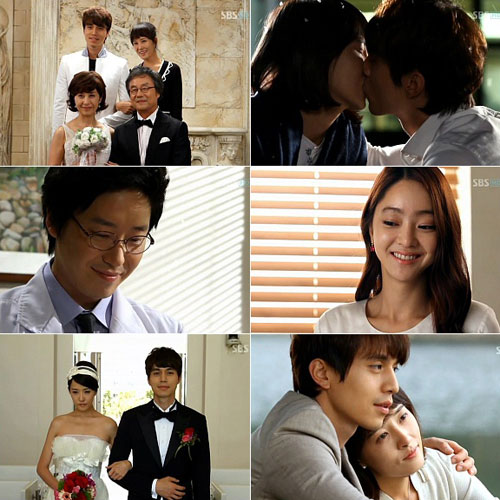 According to AGB Nielsen Media Research, SBS weekend drama "Scent of a Woman" had the rating of 14.1% nationally and 15.4% for Seoul capital region the last episode (episode 16) aired on September 11th, 2011. The rating for Scent of a Woman had been on the decline since the highest rating of 18.8% achieved on August 28th, 2011, mainly due to lack of plot tension. Coupled with Chuseok holiday, the rating for the final episode is even lower than rating for first episode aired on July 23rd, 2011, and it's a drop of 2.6% from the 16.7% rated for episode 15 a day earlier.
Scent of a Woman centers around the love story of a woman who is diagnosed with cancer at terminal stage, and has only 6 months life left to live. In the last episode, Yeon-jae is realizing all the wishes on her Bucket List. She is still living after seven months and two days, and together happily with Ji Wook. They are not giving up on hope until the end. Kang Ji Wook asks her, "If you're not sick, will you happy?" Eun Jae smiles, "If I am not sick, I won't meet you, and I will continue day dream and live carefully, but now I am happy." They even add more items to the Bucket List. In addition, Soon-jeong (played by Kim Hye-ok) managed to get remarried with Dong-myeong (playing Jeong Dong-hwan), giving the ending of the drama a touching feeling. At the end of the drama, Eun Jae's voice speaks, "Even though I don't know I can still live for how long, but as long as I live today, it's enough if I have no regret at the current moment."
The official for "Scent of a Woman" said, "We are grateful to the staff crews, actresses and actors who have worked so hard for the drama in the past 3 months. We hope "Scent of a Woman" was like a short 'summer vacation' for the viewers. We also thank those who supported the drama until the end."
Meanwhile, "Live in Style" is succeeding "Scent of a Woman" at the same time slot.