"My sister? She is like unable to understand Ji Hyung, but my mother can understand, and the aunties in the cafeteria can also understand, when I went to eat I was asked, 'Acting the the unlovable role of irresolute and be at a loss?' Different generations have different views on it!" (laugh)
Park Ji Hyung is a depressed man who is in love with another woman even though he already has a adorable and cute fiancée. And he even canceled the marriage two days before wedding day to go back to the woman who is suffered from amnesia. The man in SBS's Monday and Tuesday drama series A Thousand Days' Promise is played by Kim Rae Won, who was interviewed on November 22nd at a coffee shop at Cheongdam-dong.
"This is the first drama in three and a half years, previously in Snowman drama series I used to have a similar interpretation of love, at that time I was 22 years old, when just started to receive the ponderous story, it was very difficult to immerse into the play, and also felt a great burden."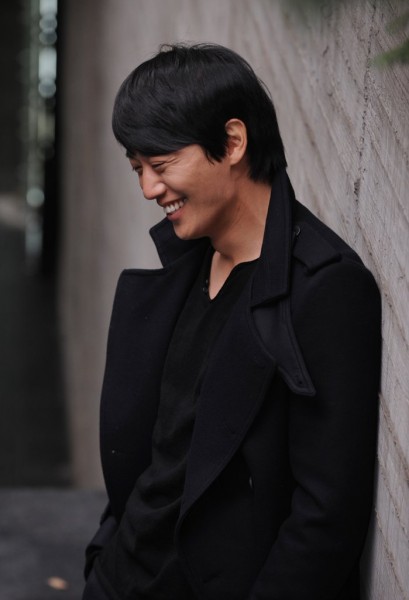 Kim Rae Won said: "Although I plays Ji Hyun, but until now I really feel very depressed, why cannot decisively reject marriage, if it's me, it's OK to choose Hyang Ki (played by Jung Yoo Mi) or choose Seo Yeon (played by Soo Ae), otherwise just don't want both women, although it seems that it's possible to choose another way to go, but still in low spirits. But now fully understood, though a bit late, but Ji Hyung is a right friend." (laugh)
In the 20-episode drama, as of now the role that must suppress and restrain emotion has started to get rid of the negative image, but previously it was really the male lead whose personality is soft and indecisive.
In the script there are many "…" punctuation marks, and there are also many lines that simply shout "Oh Seo Yeoh," and even when pushing away Hyang Ki there is only line of "Oh Hyang Ki" most of the time, but still need to perform the acting, so very had, though not satisfied, but plan to live well with such feeling and work hard.
Heard a lot of criticism around, Rae Won's sister cannot understand the behavior of Ji Hyung, but he still work hard to act well Ji Hyung, and has heard the comment of "even more delicate that reality, just like a fox" from writer Kim Soo Hyun who is famous for attentiveness.
"Do not if it's a praise, that's it anyway, so whatsoever, because the important emotional scenes of the female lead is too much, teacher Kim Soo Hyun uses a lot of dot dot dot (…). It looks like symbol used to try my best to show the pain of me, and I had did all the dot dot dot." (laugh)
Kim Rae Won gained considerable satisfaction from the lines of writer Kim. "Becomes a fan of teacher after looking at her work, every sentence of the lines is bead-like, very like the narration of Seo Yeon too, like this technique of expressing, although previous I was not too concern of the work of straightforward teacher." (laugh)
Of course felt sorry for "too focused on Seo Yeon," however, beginning from episode 15, expecting to see Kim Rae Woo's acting skill in performing the paramount supreme selflessness love. He said, "The last five episodes looks like will focus on male lead," and admitted, "Encountered the good work of A Thousand Days' Promise, really like the part so far where I can learned how to perform delicately."
Face with Soo Ae who has tacit understanding, he hopes to "seize specific focus, and boldly perform as much as possible", and explained that he is more concerned with how much acting he has to put in is more important.
The senior Kim Hae Sook who plays the role of mother is more meaningful. Two people used to act in the 2006 film "Sunflower" in the relationship of mother and son. Later they have since been in touch, after receiving the script of A Thousand Days' Promise, it's hard to decide, and Kim Hae Sook was giving him a lot of help. "Teacher Kim Hae Sook said she wants to play 'innocent mother of man,' asked me to join the casting, and even said that if I do not act, then she will not act too, so in this way it became the strength of my decision to act in the drama."
In fact, Kim Rae Won used to experience the love of heart wrenching just like in the drama. As for in reality, whether he prefers Seo Yeon or Hyang Ki? "At 20 years old I was like encountering such lovee before. Because i am usually not a cheerful person, so it looks like a cheerful person is more suitable for me."
via Star News