The caring etiquette of actor Song Jae Hee becomes a topic.
The actor for the character of Yeom in The Moon Embracing the Sun, Song Jae Hee, tweeted on his Twitter account of March 15th, 2012, "Although can sleep for two three hours everyday, but director, crew members and cast members always smiled warmly. Especially the actors, couldn't meet with loved one due to shooting, very hard, and here would like to thank manager of apparel management, and also sorry." And he published two photos.
In the published photos, the clothing assistant of Song Jae Hee is shorter than him. Song Jae Hee who is 185cm tall displayed a very caring act, by spreading his leg to lower his height. Thought the look is funny, but his etiquette manner that cared for his assistant attracted netizens' attention.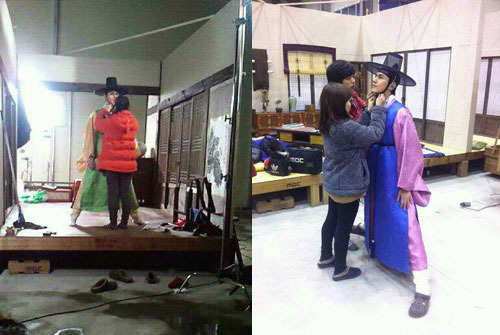 Netizens commented on the photos, "The performance in The Moon Embracing the Sun is wonderful," "Hope to see you in next project" and so on.
In addition, The Moon that Embraces the Sun starring Song Jae Hee broadcast its final episode on March 15th, 2012.
via Hankooki