Song Jae Lim who is starring in the MBC Wednesday and Thursday drama The Moon Embracing the Sun was provoking the shootng scene to burst in laughter by just wearing a single sock.
In the MBC's Section TV broadcast on February 26th, 2012, the scene of Song Jae Rim wore sock when filming was discovered. Looking at his funny look, Jung Il Woo and Kim Soo Hyun rubbed their belly, sitting on the floor laughing.
Once the camera was pointed at his feet, the lovely green stripe sock that was hidden inside the hanbok was revealed. Because he is playing the role of Woon who is quiet and steady. thus the unexpected fashion provoked crews and viewers to laugh.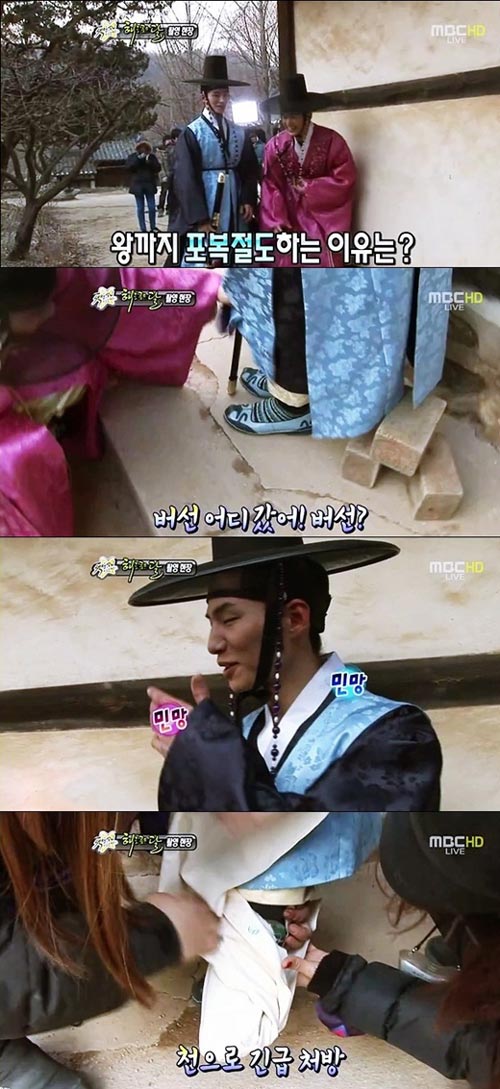 Because Song Jae Lim lost his sock, so he could only wrapped a white cloth around the foot when shooting. From afar, it looked like he was wearing socks, but nearer, his funny way instantly exposed, provoking laughter. Netizens commented, "Woon who lost his sock," "Pitiful, give him another sock," and so on.
via Ilgan Sports