Soo Ae, the woman who gets the love of Kim Rae Won but not the care, and Jung Yoo Mi, the woman who gets the care of Kim Rae Won but not the love, are showcasing their own characteristics in the drama series A Thousand Days' Promise.
In particular, two actresses with completely different characteristics are also competing strongly in fashion. The fashion duel of pure woman ancestor Soo Ae and active lively Jung Yoo Mi in the drama is also very interesting.
Soo Ae an Dignified Office Lady
Simple girl ancestor Soo Ae who is playing the tragic role who has amnesia and can't even remember her lover has caught the attention of male fans instantly. For fashion, she wears knitwear, shirt and jacket with natural color and simple design, creating a typical dignified office lady (OL).
In the first episode especially, the knee-length long cardigan coupled with in the first set and Kim to walk on the beach Yuan to wear knee length cardigan shirt coupled with denim shirt wore by Soo Ae when walking with Kim Rae Won on the beach, showed a dignified Soo Ae. The simple designed decorative accessories at in front of female shirt becomes the focus of whole body.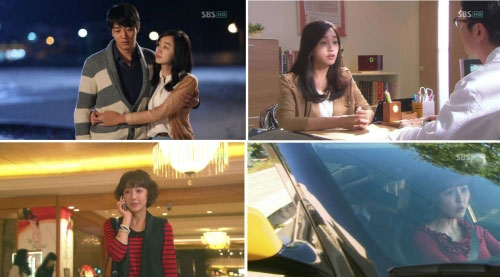 Jung Yoo Mi Delicately Pretty Cute Woman
The woman engaged to Kim Rae Won, Jung Yoo Mi is daughter born in weighty family. The style of one-piece dress and variety of clothes show the variety of charms and shows her freedom personality.
After exercising, Jung Yoo Mi looks very handsome when appearing in the hotel lobby wearing red long sleeved shirt with black stripe and vest that is hot-selling in New York, together with skirt.
The red one-piece dress wore by Jung Yoo Mi in the care after returning from the wedding ceremony with Kim Rae Won is the popular product for the season in New York. The clothes have a very good display of flower decoration on the neck curve, and the knitting materials made the body looks even more sexy.
If you also imagine Jung Yoo Mi with lots of different characteristics by wearing different clothes, then it's important not to mix together all the focus or characteristics, as it will look very rustic, if want to emphasize then one focus in whole body is good enough.