The actress Jeon Mi Seon is indeed the queen of ratings.
In Happy Together Season 3 broadcast on February 16th, 2012, MC introduced the guaranteed checks by Jeon Mi Sun on viewership ratings who is currently starring in KBS2 weekend drama Ojakgyo Brothers.
Firstly, Jung Woong In said, "This friend is currently starring in another drama," which is MBC Wednesday and Thursday drama series The Moon that Embraces the Sun. The Moon that Embraces the Sun is currently getting ratings of over 30%, and is causing a sensation.
Jung Woong In further revealed that if combining the total of ratings for drama series that Jeon Mi Sun starring in, The Moon that Embraces the Sun, Ojakgyo Brothers, and King of Baking, Kim Takgu, the total is 110%, stunning everyone.
However, Jun Mi Sun immediately listed out the movie she was starring in, Memories of Murder and Miss Mermaid, regardless of TV series or drama, the works she appeared in a box office success, drawing laughter.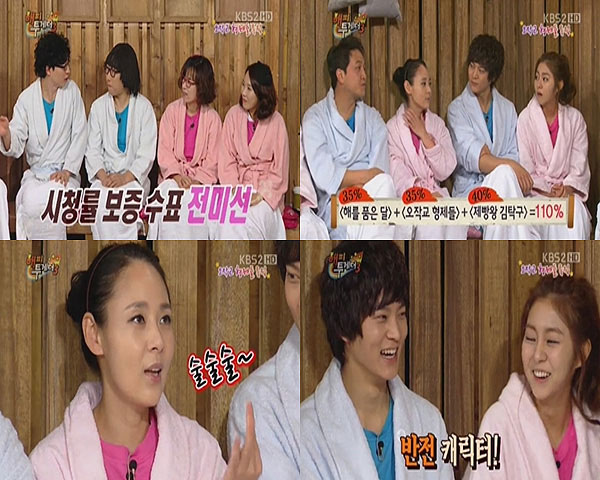 There Choi Jung-Yoon said, "Between us sister Mi Seon, the next project must let me know. Wanna get some information," proving her as the queen of ratings.
via Donga