Sung Yuri and Kang Ji Hwan guest starring in "Late Night Entertainment".
Sung Yuri and Kang Ji Hwan appeared on SBS TV's "Late Night Entertainment" broadcast on May 9th, 2012, and Kang Ji Hwan revealed the behind the scene stories when filming the kiss scene with Sung Yuri.
In the program, the host asked Sung Yuri, "Isn't there kiss scene in movie 'Detective Cha'?" Sung Yuri answered honestly, "Actually previously when shooting drama series, I have a passive attitude towards kiss scene, but in this shooting I did it rather positively."
In this regard, Kang Ji Hwan said, "We shot a kiss scene together four years ago, indeed she was very passive as she said. Not long ago watched her drama, and found that she had a kiss scene again, in this new movie, she actually said to me, 'Will it be better using this position here,' sure enough people will change after 30 years old."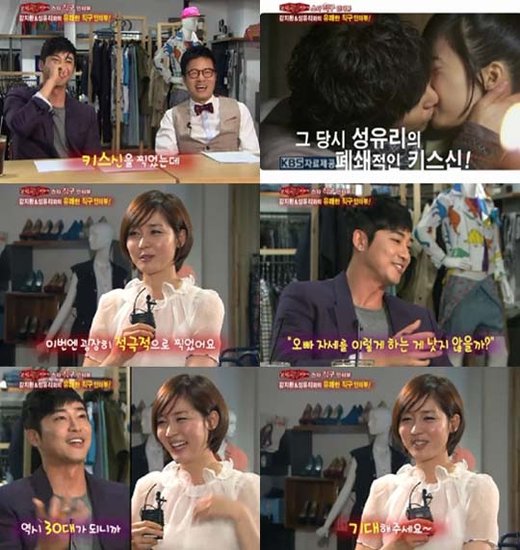 In addition, at the end of the program, Sung Yuri also revealed that she most wanted in to cooperate with actor Jung Jae Young.
via TVDaily