Your Rating
The 2nd original sound track (OST) for JTBC weekend drama Queen Insoo is released on February 3rd, 2012.
The Queen Insoo OST part 2 contains a song with the title of Sunset (노을).
The song of Sunset is sang by Samson K (삼손 케이) of DNPD (DN Producing Department). The song lyric is written by Kim Sung Taeg and Park Kyung Ho, and is the song is composed by Park Kyung Ho.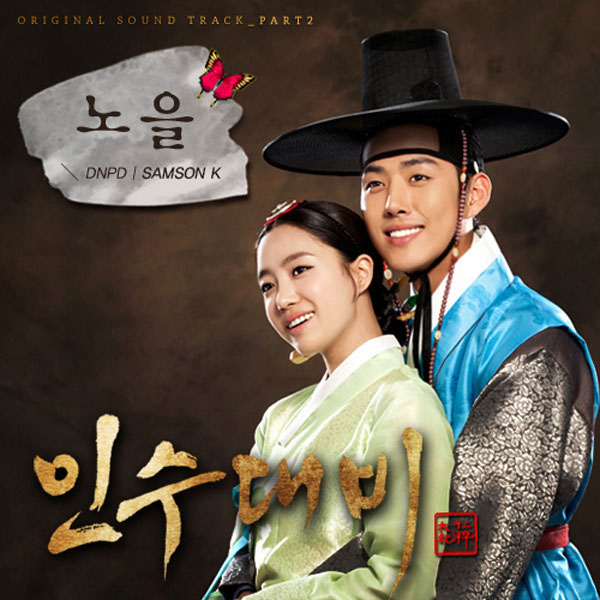 Queen Insoo (인수대비) OST Part 2 Track List
Sunset (노을) – Samson K
Listen to Sunset (노을) at YouTube.
Sunset (노을) Lyric
길 잃은 두발은 너를 향하고
어설픈 가슴은 고갤 돌려
말했던가 너를 사랑한 이유
내가 찾던 날 닮았어
우릴 멈춰 세운 세상이 붉은 하늘 뒤에 널 숨겨도
우릴 속일 수는 없겠지 너를 향한 내 사랑 노을이 되어가네
우릴 그리고 너를 지우고 바래져 버린 나의 사랑아
찾아 가 볼게 오늘 매일 평생을 그 곳에서 나 노을이 될게
우릴 멈춰 세운 세상이 붉은 하늘 뒤에 널 숨겨도
우릴 속일 수는 없겠지 너를 향한 내 사랑 노을이 되어가네
우릴 그리고 너를 지우고 바래져 버린 나의 사랑아
찾아가 볼게 오늘 매일 평생을 그곳에서 나 노을이 될게
붉게 물든 바다 저 편에 혹 있을까
내 사랑아 사랑아 사랑아 내 사람아
지키지 못한 약속들 못난 날 용서해
다음 세상이라면 너를 안을 수 있나
우릴 그리고 너를 지우고 바래져 버린 나의 사랑아
찾아가 볼게 오늘 매일 평생을 그 곳에서 나 노을이 될게
같은 곳에서 기다려 줄래
Sunset (노을) Lyric Romanization
girirheun duba-reun neoreul hyang-ha-go
eoseolpeun gaseumeun go-gael dollyeo
marhaet-deonka neoreul sarang-han iyu
nae-ga chajdeon nal talmasseo
uril meomchwo seun sesangi bulgeun haneul dwiie neol sumkyeodo
uril so-gil suneun eopt-ket-ji neoreul hyang-han nae sarang no-eu-ri dweheo-gane
uril keurigo neoreul ji-u-go baraejyeo beorin naye saranga
chaja ka bol-ke oneul mae-il pyeongsaengeul keu koseseo na no-eu-ri twehl-ke
uril meomchwo seun sesangi bulgeun haneul dwiie neol sumkyeodo
uril so-gil suneun eopt-ket-ji neoreul hyang-han nae sarang no-eu-ri dweheo-gane
uril keurigo neoreul ji-u-go baraejyeo beorin naye saranga
chaja-ga bol-ke oneul mae-il pyeongsaengeul keu-goseseo na no-eu-ri twehl-ke
bulgge muldeun bada jeo pyeone hok isseul-kka
nae saranga saranga saranga nae sarama
jigiji mothan yaksokdeul monnan nal yongseohae
da-eum sesangiramyeon neoreuraneul su i-nna
uril keurigo neoreul ji-u-go baraejyeo beorin naye saranga
chaja-ga bol-ke oneul mae-il pyeongsaengeul keu koseseo na no-eu-ri twehl-ke
gateun goseseo gidaryeo ju-llae