The ranking number 1 in income for Girls' Generation and Super Junior revealed.
On SBS's "Strong Hearts" airedon May 1st, 2012, Ivy, Oh Yoon Ah, SNSD's Tiffany, MBLAQ's Lee Jun, Han Ji Woo, Sun Woo, announcer Kim Hwan, Park Kyung Lim and others participated.
On the day's "I Have Question" section where the guests asked each other questions, female comedian Kim Hyo Jin asked Girls' Generation member Tiffany, "Among Girls' Generation, who earns the most?"
Tiffany answered, "In Girl's Generation, member which most solo activities involving CFs and dramas is YoonA," pointed out clearly that YoonA is the top earner. At the same time, he said, "This time I also starting the subunit activities in Taetiseo, so couldn't I win?" Demonstrating her anticipation, provoking laughter.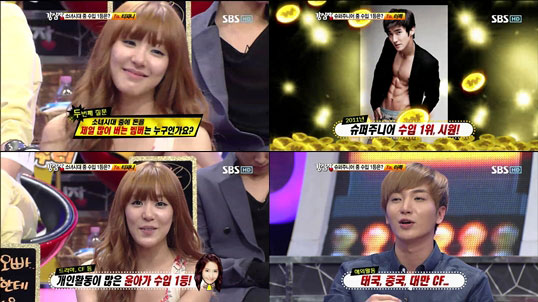 Super Junior's Leeteuk who was asked the same question said regrettably, "I counted for the last year, 8 variety shows, radio shows, concerts, and there was even CFs, so I was full of expectations, but I was not the top earner. The first was Choi Siwon, because he shot CFs at Thailand, China, Taiwan and other regions, so Littleton was asked the same question replied with regret: "I accounted for the last year, eight of the variety show, radio, concerts, and even advertising, so was looking forward to, but it is not the first first Choi Siwon, because he took ads in places like Thailand, China, Chinese Taiwan, and others, so I was too far behind to catch up."
Then Eunhyuk also said, "No mtter how hard we try to earn money, it's not as much as Siwon," provoking everybody on the scene to laughter.
via Joongang Ilbo