The 4th OST (original sound track) for KBS 2TV drama series Dream High 2 is released on February 21st, 2012.
The Dream High 2 OST part 4 contains a song with the title of Super Star. The song of Super Star is sang by T-ara's Jiyeon, Sistar's Hyorin and new singer Ailee, whom formed the pop female idol group HershE in the drama series.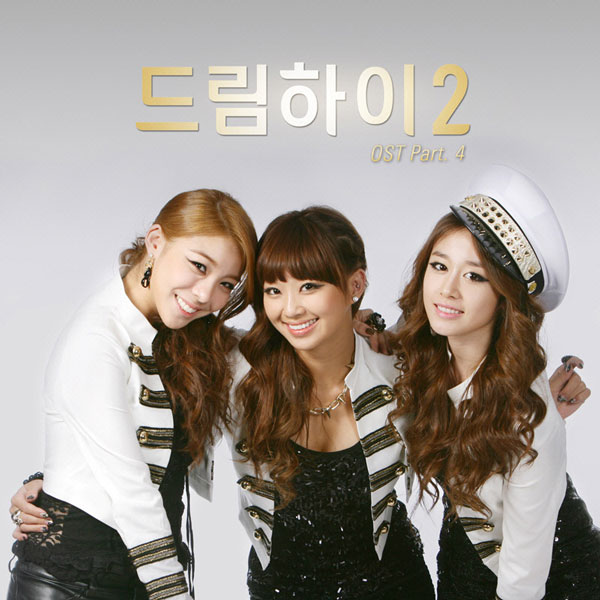 Dream High 2 (드림하이 시즌2) OST Part 4 Track List
Super Star – Jiyeon & Hyorin & Ailee (HershE)
Listen to Super Star at YouTube.
Super Star Lyric
I know you'll be a super star
So don't you worry where you are and
소리쳐 너의 이름을
We all know and love
I know you'll be a super star
So don't you forget where you are and
섹시한 니 눈빛 속에
We all fall in love
두근두근 뛰는 내 심장이 심장이 미쳐 터질듯해
거친 이 리듬에 내 몸을 싣고
반해버린 섹시한 입술 그 입술에 빠져버린
이젠 벗어날 수 없는 나만의 girl
I know you'll be a super star
So don't you worry where you are and
소리쳐 너의 이름을
We all know and love
I know you'll be a super star
So don't you forget where you are and
섹시한 니 눈빛 속에
We all fall in love
모두들 같은 옷을 입고 모두들 같은 손을 들고
이 리듬에 맞춰 내 춤에 미쳐
우리들의 인기는 이제 절정
사람들의 시선은 내게 고정
지금부터 내 몸짓에 맘이 떨려
바라보는 내 눈빛에 맘이 열려
찌르르르 감전된 것 같은 짜릿한 내 손끝처럼
이젠 이 마음을 숨길 수 없어
반해버린 섹시한 입술 그 입술에 빠져버린
이젠 벗어날 수 없는 나만의 girl
 
I know you'll be a super star
So don't you worry where you are and
소리쳐 너의 이름을
We all know and love
I know you'll be a super star
So don't you forget where you are and
섹시한 니 눈빛 속에
We all fall in love
I know you'll be a super star
So don't you worry where you are and
소리쳐 너의 이름을
We all know and love
I know you'll be a super star
So don't you forget where you are and
섹시한 니 눈빛 속에
We all fall in love
Super Star Lyric Romanization
I know you'll be a super star
So don't you worry where you are and
sorichyeo neoye ireumeul
We all know and love
I know you'll be a super star
So don't you forget where you are and
sekshihan ni nunbit so-ge
We all fall in love
dugeundugeun ttwiineun nae shimjangi shimjangi michyeo teojil-deuthae
keochin i rideume nae momeul shidko
banhaebeorin sekshihan iptul keu iptu-re ppajyeobeorin
ijen beoseonal su eom-neun namani girl
I know you'll be a super star
So don't you worry where you are and
sorichyeo neoye ireumeul
We all know and love
I know you'll be a super star
So don't you forget where you are and
sekshihan ni nunbit so-ge
We all fall in love
modudeul gateun oseurib-go modudeul gateun soneul deul-ko
i rideume majchwo nae chume michyeo
urideulye ingineun ije jeol-jeong
saramdeulye shiseoneun nae-ge kojeong
chigeumbu-teo nae momjise mami tteollyeo
paraboneun nae nunbite mami yeollyeo
chireureureu kamjeondwehn geot gateun charishan nae sonkkeutcheoreom
ijen i ma-eumeul sumgil su eop-seo
banhaebeorin sekshihan iptul keu iptu-re ppajyeobeorin
ijen beoseonal su eom-neun namani girl
emsp;
I know you'll be a super star
So don't you worry where you are and
sorichyeo neoye ireumeul
We all know and love
I know you'll be a super star
So don't you forget where you are and
sekshihan ni nunbit so-ge
We all fall in love
I know you'll be a super star
So don't you worry where you are and
sorichyeo neoye ireumeul
We all know and love
I know you'll be a super star
So don't you forget where you are and
sekshihan ni nunbit so-ge
We all fall in love
Super Star Lyric English Translation
I know you'll be a super star
So don't you worry where you are and
I shout your name
We all know and love
I know you'll be a super star
So don't you forget where you are and
In your sexy eyes
We all fall in love
My pounding and beating heart goes crazy, looks like bursting
I carry the rhythm through my body
Crazy about sexy lips, the fascinating lips
Now I am a girl who cannot escape you
I know you'll be a super star
So don't you worry where you are and
I shout your name
We all know and love
I know you'll be a super star
So don't you forget where you are and
In your sexy eyes
We all fall in love
Everyone wears the same cloth, everyone holds the same hand
Tie in the rhythm, go crazy with my dance
Our popularity is now at its pinnacle
People fixes their gaze on me
From now on, my heart trembles with my body movements
Looking at my heart that opens in my gaze
Like gotten hot electric shock, like my fingertips is exhilarating
Now I cannot hide this heart
Crazy about sexy lips, the fascinating lips
Now I am a girl who cannot escape you
I know you'll be a super star
So don't you worry where you are and
I shout your name
We all know and love
I know you'll be a super star
So don't you forget where you are and
In your sexy eyes
We all fall in love
I know you'll be a super star
So don't you worry where you are and
I shout your name
We all know and love
I know you'll be a super star
So don't you forget where you are and
In your sexy eyes
We all fall in love