On January 31st, 2012, miss A's Suzy tweeted her thoughts through Twitter on the drama Dream High 2 after watching the first episode.
Suzy said, "Wish Dream High 2 becomes a hit! It's so funny! But Sam Dong… Sam Dong… abandons Hye Mi. Boo."
Kim Soo-hyun and Suzy was showing a fresh love scene in Dream High 1, the bus kissing scene at the end of the drama once becoming a topic.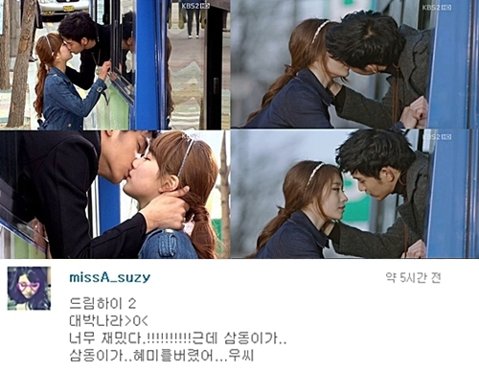 In Dream High 2, Ryan played by Suzy and Sam Dong reenacted this particular scene as part of the series, triggering the memory of Dream High 1. And also caused Suzy to jokingly made the above comments.
Netizens who saw the Suzy's comment replied, "That's because Hye Mi is more beautiful," "Isn't Sam Dong always looking at Hye Mi?" "Humph, I am also not happy after watching yesterday," "Suzy doesn't want to cameo?" and so on.