T-ara declared that they will stop all acting activities in 2012.
T-ara which is currently in Tokyo for activities in Japan expressed the official position through the management agency on February 26th, 2012, "Will temporarily stop all acting activities this year to concentrate on album activities."
The representative of management agency Kim Kwang Soo explained about the position, "The fan club establishment ceremony looking forward by T-ara will be held in early July, and there is plan to launch new album. Similarly at the end of July, in conjunction with the 3rd anniversary of group debut, the big scale concert of T-ara is also been planned." At the same time, the share of activities in Japan will also be increased from current 10% to 30% to launch a more aggressive offensive in the market.
T-ara debuted in 2009 with single "Lies," the songs of "Bo Peep Bo Peep", "Why Are You Being Like This?" "I Go Crazy Because of You," "Roly-Poly," "Cry, Cry," "Lovey-Dovey," and so on have entered the ranks of popular songs. They're well loved not just songs but also by virtue of cat dance of "Bo Peep Bo Peep," retro dance of "Roly-Poly," and shuffling dance of "Lovey-Dovey" and other themed dance choreography.
T-ara expressed their happy mood, "Won three consecutive championships through 'Lovey-Dovey,' ushering in the beginning of the year in good performance. Although the set up ceremony of fan club and concert are still in planning, but now have already been very excited and nervous."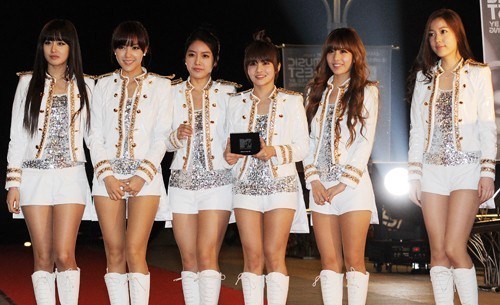 via SportsSeoul