The acting of T-ara's Park Jiyeon is critically acclaimed.
Jiyeon is playing the role of Ryan in the KBS2 TV Monday and Tuesday drama Dream High 2 that debuted on January 30th, 2012. In the drama, Ryan is a member of the pop idol group, has a great passion for acting, at the same time she is also a short-tempered and cute charming character.
The gorgeous image of Jiyeon as a singer on the stage of 1st episode has attracted the audience's attention. Although she is blamed for inadequate acting on the filming set of TV series, but she still harbors the dream of becoming "Queen of Cannes," and is working hard in practicing, showing a distinctive charm.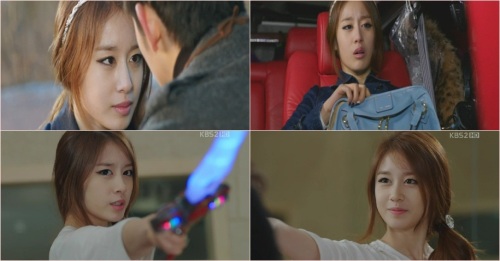 A good singer is of course the so-called 'skillful idol' who shows 'lousy acting,' and Jiyeon is receiving positive responses of perfectly portrayed the role with charm and without bashing.
After the unveiling of mysterious Dream High 2 premiere, among the many comments of audience, the the acting of Jiyeon has taken up majority of the praising views, attracting people's attention.
Viewers commented via official homepage one after another, "Want to increase the scenes of Jiyeon," "The acting of Jiyeon looks good," "The acting of Jiyeon shines," "Jiyeon's acting is the most satisfactory," and so on, full of praise for her.
So far, after receiving positive responses through movie Death Bell 2: Bloody Camp and drama Master of Study, Jiyeon is once again receiving recognition from the viewers in Dream High 2.
Episode 1 and 2 of Dream High 2 introduce all the characters in the drama and hints on the conflict between the characters. The plot of OZ Entertainment company acquisition of Kirin Arts High School is also officially started. Whether the acting of idol singers will receive support of viewers to become the top ranking Monday and Tuesday drama is under the spotlight.
via Heraldm