Based on past experience, if the the name of drama includes the name of the hero in drama, the chance of success will be very high. "Sang Doo, Let's Go To School " (2003), "My Name is Kim Sam Soon" (2005), "Be Strong, Geum-soon!" (2005), "Surgeon Bong Dal-hee" (2007), "Smile Again" ( 2010) and others, have been similar to the name of lead characters that full of personality, these unique stories have been in hot pursuit by the audience.
The name of the lead character in "Bread, Love and Dreams" (King of Baking, Kim Takgu) drama which set the ratings record of 50% in 2010 and won nationwide popularity was in fact the unique "Kim Tak Gu." The combination that created the legend, writer Kang Eun Kyung and director Lee Jung Sub, has also added the name of the main characters in the new drama that they cooperate again. Recently, Glory Jane (aka Man of Honor or Glory Jaein) which has Jae In as the lead role is constantly won praises and at the same time the ratings also advance rapidly. Park Min Young who plays the role of Jae In, while been praised by director Lee Jung Sub as able to interpret the character by 120%, is also demonstrating her superb acting.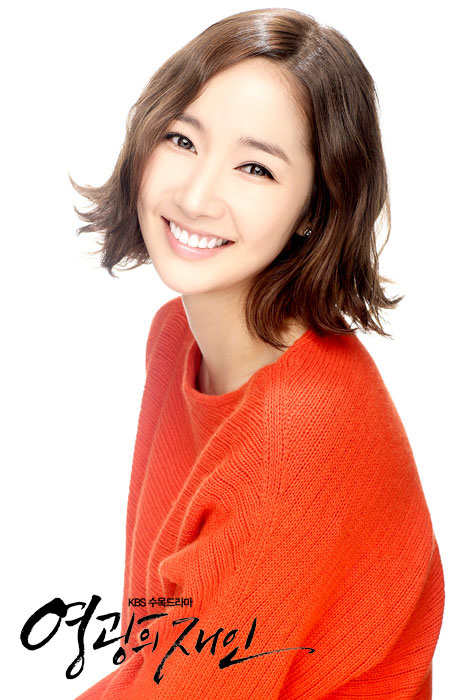 Jae In is a unfortunate daughter of wealthy family who lost her parents and lost her momory. According to the plot so far, the bright Jae In who is a assistant nurse inevitable meets fatefully with Kim Young Kwang who is reserve baseball player, and gradually develop the good feelings between man and woman. And the only son of Seo Jae Myung who is also the enemy of Jae In's father, Seo In Woo also also pays particular concern to Jae In, indicating a tangle triangular relationship.
Park Min Young has always been in the center of love story that blows away viewers' mind in drama series. In her debut drama, "High Kick!" (2006), she captured the heart of her good friends, Kim Bum and Kim Hye-sung. And in "I Am Sam" (2007) she attracted the heart of Yang Dong Geun and T.O.P. In "Sungkyunkwan Scandal" (2010), she simultaneously disrupted the heart of three scholars of the same period, Park Yoochun, Yoo Ah In and Song Joong-Ki. While in "City Hunter" (2011), she caused the subtle duel between Lee Min Ho and the smart prosecutor Lee Joon Hyuk.
Park Min Young is really beautiful, having a outstanding beauty that is enough to charm the majority of the young men. Park Min Young who has fine facial features and small face, also at the same time possesses the urbanized beauty of ability and classic innocent beauty. And what's really made people impressed when comparing with beautifulness is her superior acting that is better than actors of same age. Park Min Young who participated in the audition for the summer movie The Cat as "one top" actress, has been recognized in terms of acting skill and idol charisma. She has became the first choice for audition in the big silver screen and small TV screen that facing the shortage of excellent actress.
Debuted for five years, the reason of 26-year-old Park Min Young being so hot is because of her passion for the acting career and the perfect portrayal of every roles. Park Min Young
Debut five years, this year 26-year-old Pu Minying is so "hot" is because of their passion for hot career and a perfect role for each digestion. In "Sungkyunkwan Scandal" which Park Min Young disguised as a man, the original work "The Everyday of Sungkyunkwan Scholars" is a best-selling book that sold over 1 million copies. So in the initial planning stage, general publich has been very concerned about the core casting. And Park Min Young has managed to add to the glory of the drama through her neuter beauty and superb acting. In "City Hunter," through the role of Kim Na Na who is brave and honest in work and love, Park Min Young not only demonstrated her judo strength, but also seized the audience's attention.
In "Glory Jane," Park Min Young perfectly portrayed the role of "absolute positive girl" Jae In is most conditions. Jae In who is very fast in the language and action due to fighting for survival in difficult environment, and who is also loved to excel, is complementing the plot sotry that is tense, attractive and processed rapidly, earning critical acclaims. Park Min Young slowly leave behind the shadow during the initial stage of female version of Kim Takgu, and is using excellent acting skill to promote the trend of rising ratings. Look forward to Park Min Young who is always passionate and move forward to become an actress with even more shine.
via Nate