MBC Wednesday and Thursday drama The Moon Embracing the Star stands firmly as the strongest TV program.
For the week from January 30th, 2012 to February 5th, 2012, The Moon Embracing the Sun ranked at the first position in ratings among all variety and entertainment TV programs. Its national average ratings for episode 9 and 10 is 35.8% (AGB Nielson).
The Moon that Embraces the Sun have also won the champion in ratings for the week of January 23rd to January 29th, 2012, and is now in the third consecutive weeks to rank as most popular TV program of the week. During the period, the rising trend for ratings of top 3 TV programs KBS 2TV's Gag Concert (22.0%), weekend drama Ojakgyo Brothers (30.8%) and KBS 1TV weekday drama Only You (22.7%) lost to The Moon that Embraces the Sun.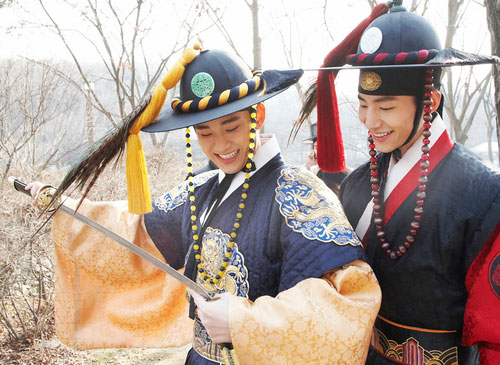 The Moon that Embraces the Sun is another box office masterpiece in 2 years and 6 months after 2009's Queen Seondeok, the ratings in the Seoul metropolitan area is expected to further improve.
An official of MBC TV series said during the phone interview on February 6th, 2012, "Because of the audience's attention, in reality, the ratings exceeded 20% wall, feeling very proud, will strive harder in order to repay the love given by the audience."
The Moon that Embraces the Sun is currently staging the process of Joseon hypothetical Wang Hwon (Kim Soo Hyun) and his half-brother Yang Myung (Jung Il Woo) identifying shaman Wol (Han Ga In), and Wol is returning to the side of Hwon without knowing she is Yeon Woo.
via Hankooki