The MBC TV series The Moon Embracing the Sun rang down its final curtain in perfection with highest audience ratings ever by the drama.
According to statistics of AGB Nielson media research company released on March 16th, 2012, the last episode of The Moon Embracing the Sun broadcast on March 15th, 2012, recorded the national average viewership rating of 42.2%. The rating is a surge of 3.5% from previous night, and is also the highest rating ever achieved by the series. The attention of audience towards the grand finale allowed the drama to end with the highest rating.
In particular, female viewers between 40 to 49 years old accounted for 17% share of the audience, was the main force of the viewers, followed by female viewers in 50 to 59 years old category.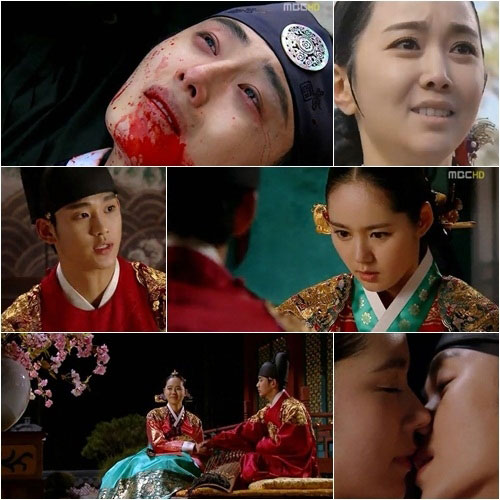 Since the airing started on January 4th, 2012 with a good rating of 18.0%, The Moon that Embraces the Sun has constantly breaking its own highest ratings record. Although there were troughs in between, but from episode 16, the drama officially exceeded 40% viewership ratings, officially become the "national drama."
The average ratings for the 20-episode series hit 32.9%, with ratings of 3 episodes stood above 40%.
In the last episode, both Yang Myung (played by Jung Il Woo) and Yoon Bo Kyung (played by Kim Min Seo) died, leaving regret. While Lee Hwon (played by Kim Soo Hyun) married with Heo Yeon Woo (played by Han Ga In), staging a grand happy ending.
In addition, broadcasting at the same time, SBS' special feature for Salaryman Cho Han Ji recorded rating of 5.3% while KBS2's Princess Weight Loss Life recorded the rating of 3.0%.