If you visit the official website of MBC TV's drama series The Sun and the Moon (The Moon that Embraces the Sun), a poetic verse will be displayed on the website, which reads as below:
冥界叩聲 日月遭遇
鏡戒滿月 雙日於天
雲斬日月 一日歸天
The poem actually tells the plot and the fate of the characters in the drama.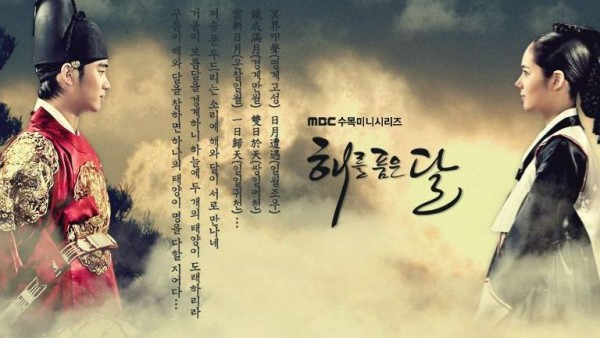 The poem can be literally translated to the following meaning:
The region beyond the grave (ghost world) began to in turmoil, resulting in the sun and the moon meet. The bright mirror alerts that on the day of full moon, there will be two suns appear in the sky at the same time. Eventually has to rely on cloud to separate the sun and the moon, and makes a sun gone.
The region beyond the grave, refers to the grandmother of Lee Hwon, Queen Yoon (played by Kim Young Ae). Together with consort clan Yoon Tae Hyun (played by Kim Young Soo), they plot a rebellion, influencing the decision of King Seongjo to let the crown price to ascend the throne and become a new king, contributing to the encounter of Lee Hwon (played by Kim Soo Hyun) who represents the sun, and Heo Yeon Woo (played by Han Ga In) who represents the moon.
Mirror, suggests the queen of Lee Hwong, daughter of Yoon Tae Hyun, Yoon Bo Kyung (played by Kim Min Seo). Because her status is gradually replaced with Yeon Woo, she who is ordinary gradually becomes disgusted of Yeon Woo gradually. In the meantime, the another sun Prince Yang Myung (played by Jung Il Woo) who circles around Yeon Woo and Lee Hwon, found out that he should not be living in the shadow of Lee Hwon as such, so he instigates, rises up, decides to compete with Lee Hwon.
If two men ride on a horse, one must ride behind, the co-existent of two suns, there must be one that has to quit in order to maintain peaceful situation. The imperial guard of Lee Hwom, Woon (played by Song Jae Rim), is knowing and mutually cherish to each other with Prince Yang Myung just like brothers. He falls in love with Yeon Woo, the woman who let him realizes himself. Not possible to have it both ways in public or in private, the royalty to the king, the care for the woman, led her to decide to come come forward to cut off the romance between Yeon Woo and Lee Hwon, but the action will cause great harm.
The Moon that embraces the sun, undoubtedly refers to Yeon Woo who becomes a female shaman. Wandering between two suns (Lee Hwon and Yang Myung), femme fatale, the conflict between Lee Hwon and Yang Myung, success or lose all depends on Yeon Woo, how should Yeon Woo quells their fiction? Let them kill each other for final lose-lose situation?