In late February 2012, the photo of filming set up by staff crews of The Moon Embracing the Sun was published.
On February 27th, 2012, director of photography of The Moon that Embraces the Sun tweeted on own Twitter account, "To facilitate convenient, so set up the prop scene. But this house looks like a dilapidated houses," and uploaded a photo.
In the photo, the crews at the filming studio of The Moon Embracing the Sun sat behind the actors, cutting the "wall" prop. For the convenience of shooting from the behind, the crews have to shear the wooden plywood.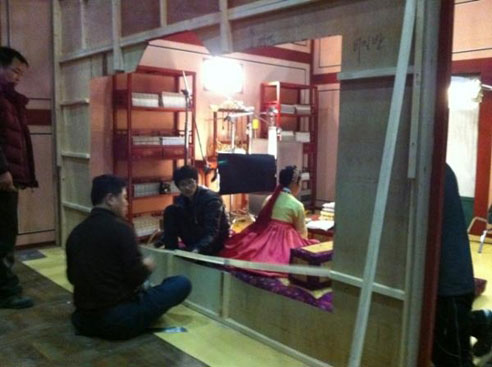 Netizens who saw the photos were anxious, "Is it because the house is small, but the board has to be cut small?" "Spend more money, in any case it's a national drama," "The crews are really hard!" and so on.