MBC Wednesday and Thursday drama series The Moon Embracing the Sun starring Han Ga In and Kim Soo Hyun continued to hold on the champion position for the 5th time on the ratings ranking for the week ending on February 19th, 2012.
According to statistics released by AGB Nielson Media Research company on the morning of February 20th, 2012, among all the TV programs broadcast from February 13th, 2012 to February 19th, 2012, The Moon Embracing the Sun ranks at first position with the average ratings of 38.0%, becoming the ratings winner continuously for 5 consecutive.
Although the first place of ratings ranking list is taken away by MBC, but KBS TV monopolizes all the position from second place to first place, the overall advantage of KBS in the weekly ratings chart does not been affected significantly.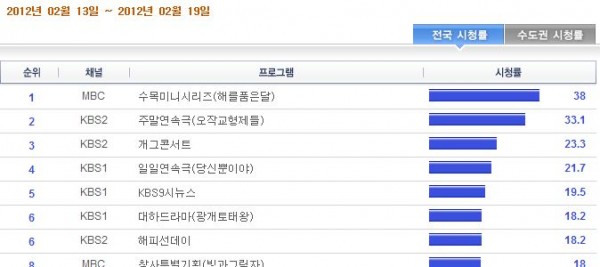 via MyDaily