The lost memory of Wol finally returns.
Follow up a victory with hot pursuit, MBC drama series The Moon Embracing the Sun (TMETS) that broke its own highest ratings record again released the preview for episode 14.
In particular, the title for the upcoming episode 14 that broadcast on February 16th, 2012 is "Why am I dead?" The regain of memory by Wol has been highly anticipated by the audience. Wol has started to be suspicious about the fact that she has died once before, but does not know the reason of the death.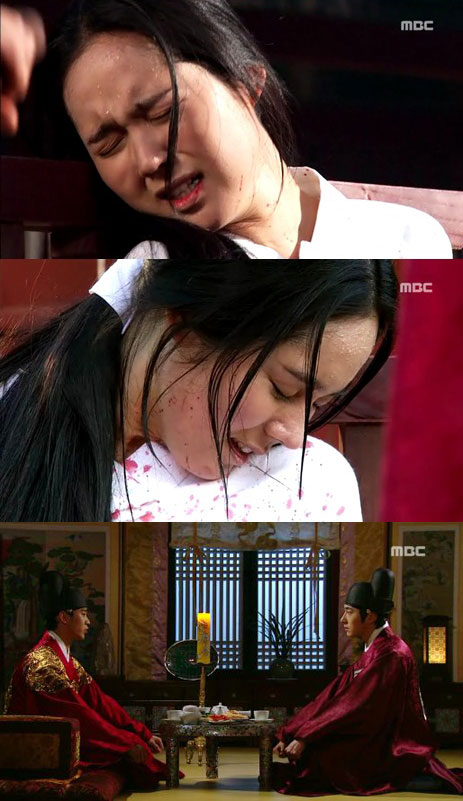 Wol who lost the memory recalls the previous images on her mind, seems like gradually recovering her memory, moreover, she starts to has a feeling on the name of Yeon Woo, slowly feeling that it's her memory that is coming back.
The text preview of episode 14 disclosed that Wol (Han Ga In) is wearing the jeogori that is bearing the identity of convicted sinner for committing the sin, and expelled to west infirmary care house. Hwom whom his leadership been taken away suffers humiliation by the ministers at the side hall.
Late at night, Hwon (Kim Soo Hyun) goes to find Wol at Uigeumbu. He suppresses the heavy feeling, striving to calmly order Wol to walk away from him. The next day, while on the day Wol is taken to west infirmary care house, she is kidnapped by unidentified person. Yang Myung (Jung Il Woo) who heard the news immediately rushes out but he is blocked by Woon (Song Jae Rim).
On the other hand, the rating for the episode 13 of The Moon Embracing the Sun broadcast on February 15th, 2012 is 38.4% (AGB Nielson media research), setting the highest ratings, refreshing the highest viewership ratings records for another time.
via Hankooki