The leaked subheading title for episode 19 of TV series The Moon Embracing the Sun (TMETS) has become a hot topic.
The crew of MBC drama series The Moon that Embraces the Sun production team tweeted on March 2nd, 2012 through his Twitter account, "The days of which we painstakingly filmed the drama, the days that we laughed and cried finally almost ended, the rebellion will start soon. Two suns, but one of it will be very sad, which sun will continue to shine, or hide behind the moon…," and he uploaded a photo of episode 19 script. The subheading title for the episode 19 is 'Rebellious."
The beginning of episode 19 starts from where episode 18 left off, where Jung Il Woo tells Kim Eung Soo, "I only want two things, the position of chief mourner for jongmyo jerye (ancestral temple ritual) and Heo Yeon Woo."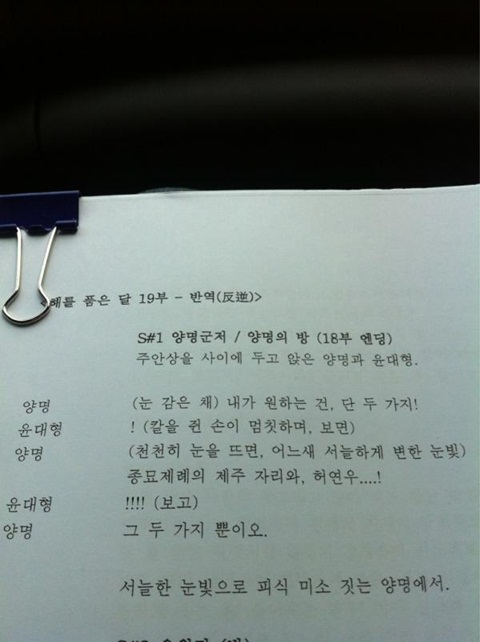 The words of Jung Il Woo seem like implying that he is going to rebel. The chief mourner position of jongmyo jerye ritual is often done by eldest son, but now Lee Hwon has replaced Yang Myung to ascend to the throne and become the chief mourner. Yang Myung also directly demanded the woman of the king, Heo Yeon Woo (played by Han Ga In).
But there is also speculation that these words of Yang Myung is not about rebellion. Yang Myung never fought for the throne of his younger brother, in the duel with Lee Hwon, he never used a heavy hand as he can't bear to hurt younger brother, as such Yang Myung should not be betraying his younger brother.
The remaining 2 episodes of The Moon that Embraces the Sun is broadcast on March 7 and March 8 of 2012.