The PD of MBC Wednesday and Thursday drama series The Moon that Embraces the Sun, Kim Doh Hoon, has expressed the difficulties due to aftermath of labor union strike at MBC.
On the early morning of February 22nd, 2012, Kim Doh Hoon tweeted on his Twitter microblog (@Doo91e), "In the aftermath of a prolonged strike, beginning this week, the normal operation in the second half inevitably becomes more difficult. Although the ongoing situation is difficult, but hope that everybody can understand."
The three-week strike has affected the airing of MBC's programs such as 'Infinite Challenge' and 'We Got Married,' there is concern that The Moon Embracing the Sun will be affected as well.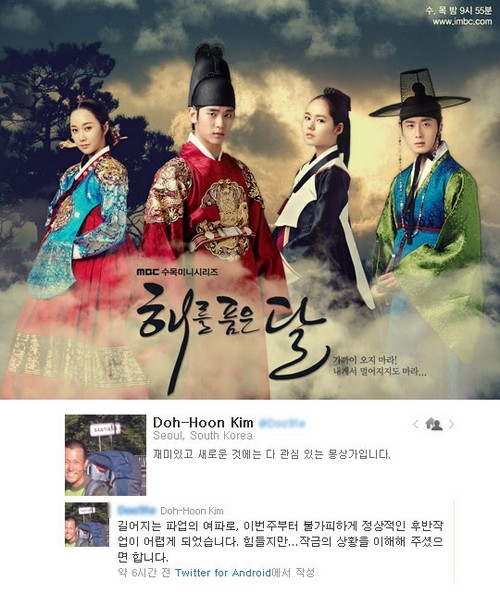 But the production company of The Moon Embracing the Sun, The Pan Entertainment, explained to DongA through phone, "There is nothing wrong with recording and broadcasting. What mentioned by PD Kim Do Hoon is the normal editing of second half works and issue regarding detailed structure."
Including the broadcast on February 22nd, 2012, The Moon Embracing the Sun has 6 more remaining episodes.
via DongA