After the broadcast of episode 16 of MBC hit drama series The Moon Embracing the Sun (TMETS) on February 23rd, 2012, many viewers immediately flooded the various community boards with complaints and to vent their anger.
The main reason is the highly anticipated "kiss scene" between Lee Hwon (Kim Soo Hyun) and Yeon Woo (Han Ga In), which was been shown in the preview for episode 16, was not been broadcast in the content of episode 16 during the actual airing. Instead, the episode ended with the cry scene of Kim Soo Hyun.
Viewers left comments such as, "Am I missing something?" "Been cheated," "Do they kiss," "No kiss scene," "Do I miss out the kiss scene?" "No kiss scene but I love the episode, the acting of Kim Soo Hyun and others are so good," "What a way to boost the ratings," "It's already the last 5 minutes, I kept waiting," "What a joke," "I cried out with Kim Soo Hyun, that's make up the missing kiss scene," "Last week Yeon Woo cried, this week Lee Hwon cried, it's fair, but no kiss scene" and some even more lowly comments, the responses have been overwhelming.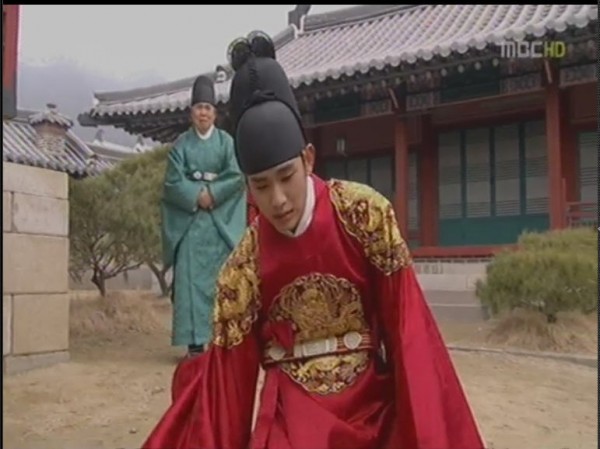 Eventually the production team of The Moon Embracing the Sun have issued a statement to explain what's exactly happening that caused the some scenes in the preview couldn't be included in the episode.
According to the statement by assistant direct Park Ji Hyun on official website, the production team discovered that some of the content in the preview may not be aired about 5 hours before the broadcast began, which is around 1 hour after the preview was released.
The producer admitted their mistakes and poorly thought out areas, and begged for forgiveness and continue support.
The real reason of the supposedly kiss scene was not broadcast in the episode 16 is that the cutting and rearrangement of the drama that cannot exceed the fixed length of broadcasting duration.
The three main major broadcasters in South Korea have made an agreement to limit the maximum duration for each episode to not exceeding 70 minutes in order to avoid cutthroat competition and other unfair elements.
The good news is that the producer promised audience will get to see and enjoy the scene in next episode of episode 17. And they will produce even better scene to reward everybody's expectations.