KBS 2TV musical drama Dream High 2 releases its 7th OST (original soundtrack) on March 13th, 2012.
The Dream High 2 OST part 7 includes the song with title of Together.
The song is sang by T-ara member Park Jiyeon (지연) and JB (제이비), both of them the actors in the drama. In drama, it's expected to be the song Hae Sung (played by Kang So Ra) wrote the song for Rian (played by Jiyeon) and JB (played by JB Lim Jae Bum), and asks Rian to sing the song on the final mission of Super Idol audition.
The song is composed and written by J.Y. Park, who is also one of the actor in the drama.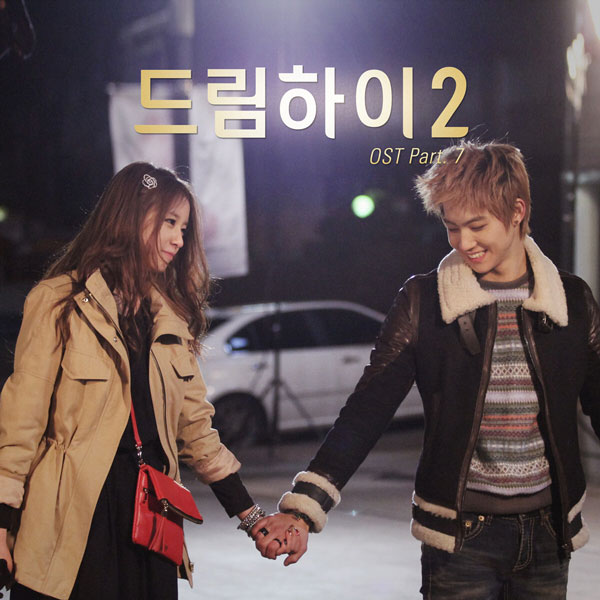 Dream High 2 OST Part 7 Track List
Together – Park Ji Yeon & JB
Together Lyric Official MV
Together Lyric
하루하루 살아가는 게 세상 속에서 부딪히는 게 힘들 때
수많은 사람 속에서 그 중에 한 명뿐이라는 게 느껴질 때
사랑스런 눈길로 나를 바라봐주는 니 눈을 보면 난 특별하다 느껴져
따듯한 니 품으로 나를 안아주면은 온 몸에 상처가 모두 아물어가
When we're together when we're together
모든 게 괜찮아져 아픈 기억들 사라져
When we're together when we're together
난 다시 행복해져 나도 모르게 미솔 지어
쓸쓸함이 밀려올 때 갑자기 혼자라고 느낄 때 그럴 때
모든 것들이 낯설고 갑자기 자신이 없어지는 그 순간에
나를 믿어주면서 내게 용기를 주는 니 목소리에 난 다시 세상에 나가
한 발짝 뒤에 서서 나를 지켜봐 주는 니가 있다는 게 너무 소중한걸
When we're together when we're together
모든 게 괜찮아져 아픈 기억들 사라져
When we're together when we're together
난 다시 행복해져 나도 모르게 미솔 지어
이대로 지금처럼만
내 곁에 너만 있다면
어떤 시련이
와도 이겨 낼 수 있어
When we're together when we're together
모든 게 괜찮아져 아픈 기억들 사라져
When we're together when we're together
난 다시 행복해져 나도 모르게 미솔 지어
When we're together when we're together
모든 게 괜찮아져 아픈 기억들 사라져
When we're together when we're together
난 다시 행복해져 나도 모르게 미솔 지어
Together Lyric Romanization
haruharu sara-ganeun ge sesang so-geseo budijhineun ge himdeul ttae
sumanheun saram so-geseo keu junge han myeongppuniraneun ge neukkyeojil ttae
sarangseureon nungillo nareul barabwah-juneun ni nuneul bomyeon nan teukbyeorhada neukkyeojyeo
tta-deuthan ni pumeuro nareuranajumyeoneun on mome sang-cheo-ga modu amu-reo-ga
When we're together when we're together
modeun ge kwaehn-chanhajyeo apeun giyeokdeul sarajyeo
When we're together when we're together
nan tashi haengbo-khaejyeo nado moreuge misol jiyeo
sseul-sseurhami millyeo-ol ttae kab-jagi honjara-go neukgil ttae keureol ttae
modeun geot-deu-ri nasseol-ko kab-jagi jashini eop-seojineun geu sunkane
nareul mideojumyeonseo nae-ge yonggireul juneun ni moksorie nan tashi sesange na-ga
han balchag dwiie seoseo nareul jikyeobwah juneun ni-ga it-daneun ge neomu sojung-hankeol
When we're together when we're together
modeun ge kwaehn-chanhajyeo apeun giyeokdeul sarajyeo
When we're together when we're together
nan tashi haengbo-khaejyeo nado moreuge misol jiyeo
idaero chigeumcheoreomman
nae gyeote neoman it-damyeon
eotteon- shiryeoni
wahdo ikyeo nael su isseo
When we're together when we're together
modeun ge kwaehn-chanhajyeo apeun giyeokdeul sarajyeo
When we're together when we're together
nan tashi haengbo-khaejyeo nado moreuge misol jiyeo
When we're together when we're together
modeun ge kwaehn-chanhajyeo apeun giyeokdeul sarajyeo
When we're together when we're together
nan tashi haengbo-khaejyeo nado moreuge misol jiyeo
Together Lyric English Translation
When facing difficulties clashing with the world in day to day living
When feeling that you're just one of them among the countless people
Look at me with loving eyes, by just looking into your eyes, I feel that I'm special
As long as I'm in your warm embrace, the wound all over my body will heal
When we're together when we're together
Everything becomes doesn't matter, even the painful memories are gone
When we're together when we're together
I feel happy again, showing smile unknowingly
When loneliness suddenly spring up, when feeling you're alone
When suddenly everything seems strange, at the moment lost self-confidence
Believe in me, gives me courage, because of your voice, I'm back out into the world
Stand behind me, watching over me, is so precious to me
When we're together when we're together
Everything becomes doesn't matter, even the painful memories are gone
When we're together when we're together
I feel happy again, showing smile unknowingly
Just like this here and now
If you are by my side
Whatever ordeal
I can overcome
When we're together when we're together
Everything becomes doesn't matter, even the painful memories are gone
When we're together when we're together
I feel happy again, showing smile unknowingly
When we're together when we're together
Everything becomes doesn't matter, even the painful memories are gone
When we're together when we're together
I feel happy again, showing smile unknowingly