The famous scenes with highest ratings for MBC drama series The Moon Embracing the Sun which is going to usher in the grand finale were revealed.
On March 6th, 2012, the MBC's A Good Day revealed the ranking chart of the highest ratings scenes from episodes that have been aired up to episode 18.
Ranked at first position is the sobbing scene of Kim Soo Hyun broadcast in episode 16 on February 23rd, 2012. After Hwon (Kim Soo Hyun) finally knew that female shaman Wol (Han Ga In) is the same person as Yeon Woo, he shed forlorn and bitter tears with a sorry heart. The instantaneous real-time ratings for this scene hit 52.59%, stimulated the lacrimal gland of the audience.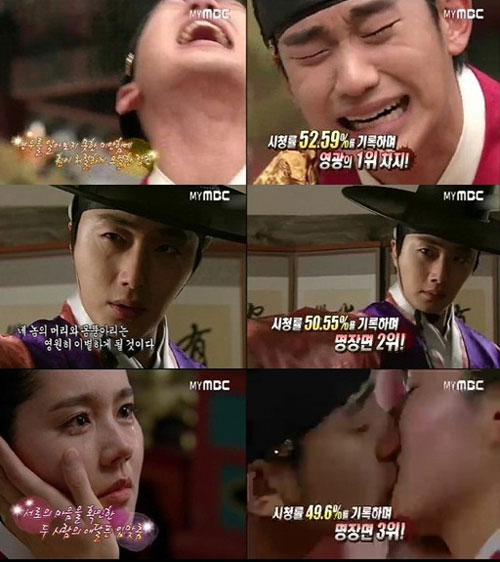 In the second place was the scene of Jung Il Woo pulled out the knife, and shouted "if you dare to say any nonsense again, your head will part with body" broadcast in episode 18 on March 1, 2012, where the momentary real-time ratings hit 50.55%.
In the third place is the kissing scene between Kim Soo Hyun and Han Ga In broadcast on February 29th, 2012 in episode 17. The scene depicts Hwon took out the hairpin named "The Moon that Embraces the Sun" and handed it to Yeon Woo, and kissed Yeon Woo while tears flowing at the side hall. The moment recorded the rating of 49.60%.
via Joongang Daily