Although the number of members is reduced, TVXQ's popularity has not diminished. At 18 o'clock on April 23rd, 2012, the two-member boy band TVXQ held concert in the 45,000-seat Japan's Osaka Dome. This is the final leg of TVXQ's nine cities tour since January 2012 beginning from Yokohama, Fukuoka, Nagoya, and other Japanese cities.
The tour is first concert by two-member group TVXQ in Japan after the other three members set up JYJ in 2010. Management agency SM Entertainment said, "The 26 performances attracted 550,000 spectators, the ticket and merchandise sales are expected to be approximately $100 billion South Korean won (about $87.7 million US dollar). 550 thousands people is the highest number of audience ever attracted in individual concert by Korean singer at home and abroad."
After the show began, the auditorium was dyed red by fans who waved light sticks. TVXQ sang a total of more than 20 songs included 2006's "Rising Sun", several songs recorded in the studio album "Tone" released in Japan in 2011 such as "B.U.T" and "Superstar". U-Know Yunho also imitated the buzzwords of the popular Japanese comedian, provoking laughter.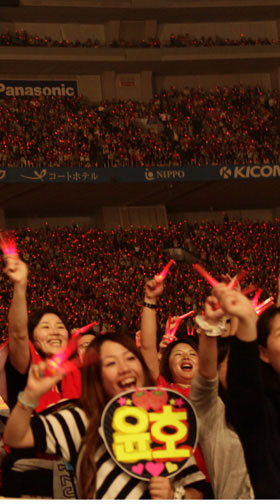 The 3D video effects was also one of the spectacles. The image of U-Know Yunho and Changmin were projected on the performing scene, presenting the scene as if many members dance and sing on the stage together. The two members also rode the mobile device to roam at every corner of the venue, throwing the autographed balls to the fans.
Before the performance, thousands of fans gathered around the Osaka Dome. A 25-year-old fan from Hyogo Prefecture said, "Handsome, body is also great… The reasons to like TVXQ are numerous." There were also many female fans of over fifty and sixty years old. A 62-year-old female fan from Yamaguchi Prefecture said, "Not only young people, people of all ages like TVXQ."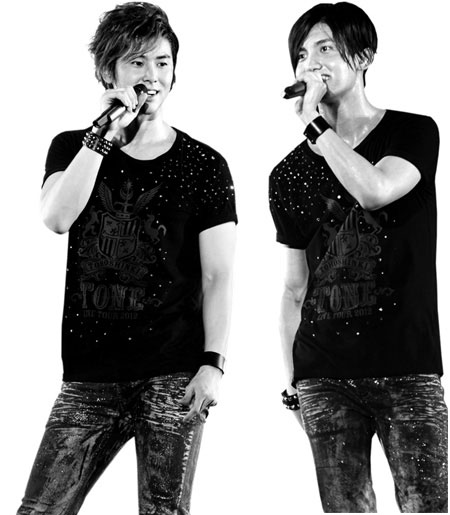 In the three-hour concert, the fans always stood up from the seat excitedly. When the melody of single "Toki wo Tomete" and other ballads stopping, fans would shouted, "I love you!" When TVXQ came back to sing "Somebody To Love", 45,000 fans also sang together to the tune. A 23-year-old fan from Hiroshima Prefecture said: "Very happy can see U-Know Yunho. I also went to the concert held in Fukuoka in February, very satisfying to be able to watch again."
via Chosun