On his birthday, Uhm Tae Woong received the gift of sports shoes from Lee Bo Young.
On April 5th 2012, in the press conference held at the set of KBS2 Wednesday and Thursday drama series Man From the Equator at Gyeonggi Province, Uhm Tae Woong said, "The TV series and movie have a smooth sailing, I am very ahppy," and laughed heartily. Uhm Tae Woong who celebrated the birthday on the day said with emotion, "Day before the ratings rose, I am very happy. Today is my birthday, I received the sports shoes gifted by Lee Bo Young, I feel like I am celebrating the best birthday."
The Man From the Equator broadcast on April 4th, 2012 recorded the national viewership ratings of 10.2%. This was the first time the ratings breakthrough double-digit since the drama premiered. On the day's program, Uhm Tae Woong won the praise by virtue of superb acting. In the drama, he meticulously portrayed the furious and pain of the protagonist after losing vision due to accident. The TV series premiered on March 21st, 2012, and has broadcasted 4 episodes. Although due to cast members are mostly child stars, and the impact from SBS' Rooftop Prince and MBC's The King 2 Hearts, its ratings have been lingering in the single-digit, but after the debut of adult actors including Uhm Tae Woong, the ratings are showing an upward trend.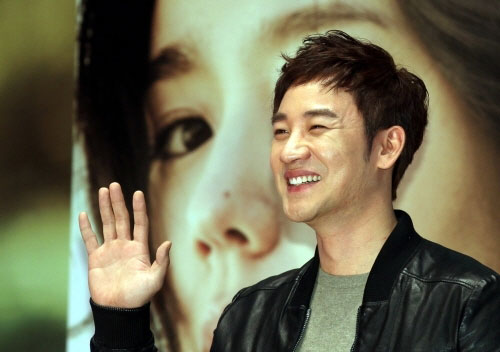 Uhm Tae Woong said, "Fortunately, the transition from child stars to adult actors is very natural. In fact, to more accurate interpret this growth process, there should be one more person between me and Lee Hyun Woo. He revealed that his appearance is much older than Lee Hyun Woo's, provoking laughter.
Then, when it came to audience ratings, he honestly said, "I agreed to join the shooting as it seemed to be a very interesting drama. SBS and MBC Wednesday and Thursday drama are relatively seem to be more gorgeous." Finally, he said, "I still hold the little wish of 'response for the drama could be slightly better' in my heart. Just as the audience expected, as the story progresses, drama will be more and more interesting. Hope that the audience will like the drama."
Man From the Equator which compliments the traditional love is a revenge drama that tells the story of Sun Woo (Uhm Tae Woong) falls out and becomes enemy with friend Jang Il (Lee Joon Hyuk) due to the death of his father. At the same time, it's also a drama with the theme of love triangle between the two persons and Ji Won (Lee Bo Young) and eventually resolve their conflict through forgiveness.