The stills of the eyes' expression acting for Han Ga In and Kim Yoo Jung in The Moon Embracing the Sun revealed.
On February 17th, 2012, the MBC official website for The Moon Embracing the Sun published the still photos from the scenes broadcast in episode 14 aired on February 16th, 2012. In the episode 14, Wol (Han Ga In) is locked in Hidden Moon Court and recalls the memory of Yeon Woo when young.
In the photos published by MBC, the change of Han Ga In's expression when met Yeon Woo, the expression of Kim Yoo Jung, and the expression of Kim Yoo Jung when saw Han Ga In have won the praised from the audience for their acting skills.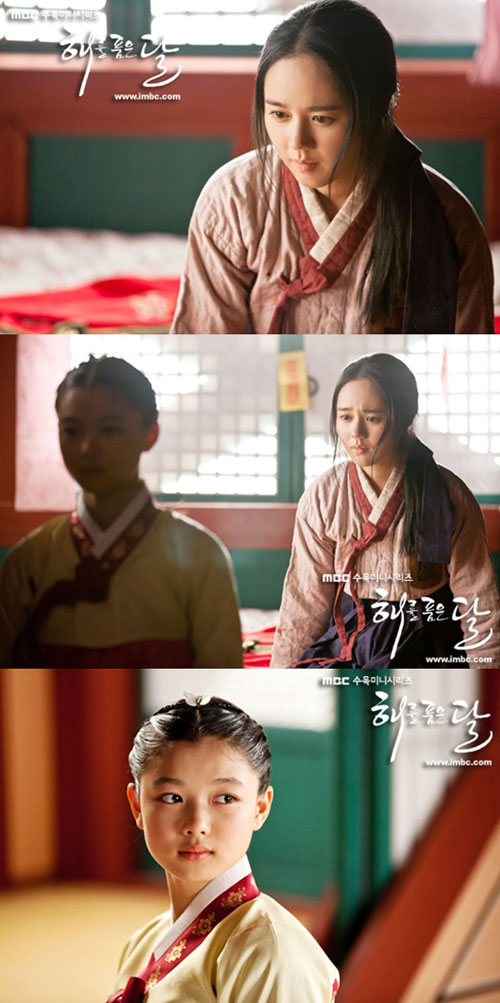 The most intense scene in episode 14 is the slow recovery of memory by Han Ga In, while the acting of Kim Yoo Jung is proven once again through the photos.
After seeing the photos, the audience said, "The acting of Han Ga In expression from the eyes is perfect," "By just looking at the photos can feel the touch of the TV series," "The acting of young actress Kim Yoo Jung and Han Ga In are perfect" and so on.
In addition, viewers are looking forward to what will happen to the life of Han Ga In who has regained her memories.