The grandparents of actress Lee Ji Ah, who is currently acting in Me Too, Flower, had selflessly contributed huge amount of assets to the educational entities when they're alive.
Since debut Lee Ji Ah is full of mystery, a star who is an unknown in all the information on her life, curriculum vitae, family relationship etc. Especially in April 2011, the exposure of her secret marriage with Seo Tai Ji and divorce alimony dispute has taken her to the the teeth of the storm of the public opinion. Comparing with other actors, the growing environment and personal information of Lee Ji Ah are completely lacked of, and this is a sharp contrast with big scandal that actually influences entertainment industry.
So much so that based on this and other reasons, the public opinion on Internet once used "alien" to call her. Although speculation never stops, but the talent agency of Lee Ji Ah and Lee Ji Ah herself have no intention to make any response and clarification regarding of any form of gossip.
Thus, OSEN persists in investigation against Lee Ji Ah, and found that grandparents of Lee Ji Ah used to donate a piece of land in Pyeongchang-dong for relocation of Seoul Arts High School in 1976. In addition, we conducted an interview with Jeong Dae Cheol (68 years old), the senior adviser of Democratic Party who is friend of Lee Ji Ah's family for more than 40 years.
Adviser Jung accepted the phone interview on the afternoon of December 17th, 2011, "From childhood to schooling time, I was always the neighbor and playmate of late Lee Ji Ah's grandfather (Kim Sun Heung). At that time, inside the Seoul Saedaemun has 99 rooms (about 180 pyong or 595.08 sqm), but only lived a total of 2 families. One is former residence of late president Yun Bo-seon, another is the ancestral home of the late Lee Ji Ah's grandfather.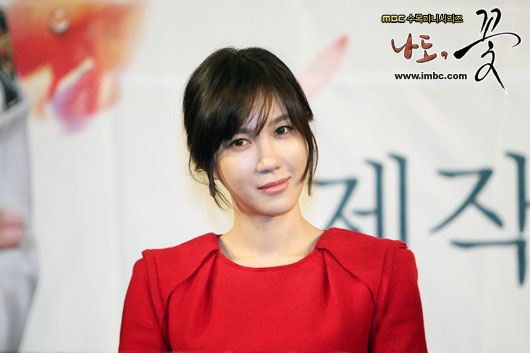 The 11 family members of grandparents of Lee Ji Ah including Lee Ji Ah's father had been living together. Within these siblings there is people who is even my same-age friend. The family of Lee Ji Ah has been one of the most wealthy family at the time before liberation. They who got rich through silk business in Jongno did not forget their social responsibility, and the money was used in support of education, so they were not just simple rich businessmen but well-known people with noble character and high prestige.
Adviser Jung said the Lee Ji Ah's grandfather was the owner of land for today's Seoul Arts High School (formerly Ehwa Arts High School) in Pyeongchang-dong. And he even gave support to high school students whose from not so well off family. Under the influence of such family environment, as the descendants of Kim's family (Lee Ji Ah born name is Kim Sang-Eun), Lee Ji Ah's father and Lee Ji Ah are also having a heart for social duty although they have nothing to worry about economically.
Adviser Jung added, "Lee Ji Ah's father has long been back and forth between Korea and United States to operate his company, and until now is still persistent working hard to run the company, so Lee Ji Ah had always lived in United States and has nothing to worry economically. One day after Lee Ji Ah debuts as actress, Lee Ji Ah's father called me, saying, 'Brother, the Lee Ji Ah who is in activity is my daughter,' precisely because of this phone I just get to know that she is active as an actress."
via Osen