What's the future acting plan of Kim Soo Hyun who won the hearts of female audience through The Moon Embracing the Sun?
MBC TV series The Moon Embracing the Sun concluded with 42.2% ultra-high rating on March 15th, 2012. The line and the plot in the drama are under the spotlight, but of course, the most talked about is still the hero Kim Soo Hyun.
Kim Soo Hyun is playing the role of the King Lee Hwon who can't forget his first love Heo Yeon Woo. He is a king with unreasonable passion for love, also a cute king who loves to joke, and even more so a king who is mighty and severe in front of ministers. Kim Soo Hyun interpreted a variety of role through his acting. The popularity of the TV series gave Kim Soo Hyun many advertising contracts, where the quantity has exceeded 10. If just counting the day of March 16th, 2012, Kim Soo Hyun has to attended fans autograph session and The Moon that Embraces the Sun celebration party, proving his busy schedule.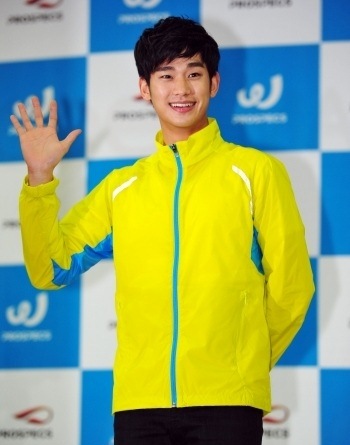 The management company of Kim Soo Hyun said, "In the beginning of the drama, Kim Soo Hyun had a cold, very tired when filming. There was three to four days he didn't have a good rest, had been shooting continuously, making him did not rest for even one day. Because of worry, fans had sent him many ginseng and meat. During the rest time, we also took care of him, letting him eat more to maintain physical strength."
Staff crew said, "Although the drama has ended, but there is still a lot of CFs and interviews not yet done. He is very exhausted now, thus only shot two of the CFs. The schedule cannot be arrange, a lot of agendas are put off, so if now want to complete all the things will be very tiring. In fact, a lot of drama scripts are now piled up at the office, he didn't even have time to check on it yet. But he will try to select the next project as soon as possible."
"Movie The Thieves starring Kim Soo Hyun is expected to be released in July, but the exact date is not confirmed yet. When on show, there is a need to participation in publicity, so definitely will be tiring again. Although now he is very busy, but everybody is so loving him, he is very grateful. In the near future, his main activities will be CF shooting, magazine pictorial shooting and some interviews."
Film The Thieves starring Kim Soo Hyun also features Kim Yun-Seok, Kim Hye-Soo, Oh Dal-Su, Gianna Jun and other actors. Currently the shooting of the movie has completed. The movie is one of the most anticipated Korean film of 2012. Kim Soo Hyun is playing the role of Jampano who unrequited love Gianna Jun.