In episode 10 of The Moon that Embraces the Sun broadcast on February 2nd, 2012, Heo Yeom (Song Jae Hee) passes the letter which wrote by Heo Yeon Woo (Kim Yoo Jung) before her death to the king Lee Hwon (Kim Soo Hyun).
When Lee Hwon heart-brokenly read the Yeon Woo's letter, he ultimately discovers that writing style of characters on the note of apology wrote by Wol (Han Ga In) to him is similar to the writing style of characters on Yeon Woo's letter.
Yeon Woo's letter is written in Hanja. Here's the translation of the content of the letter which was written by Heo Yeon Woo right before her 'perceived' death: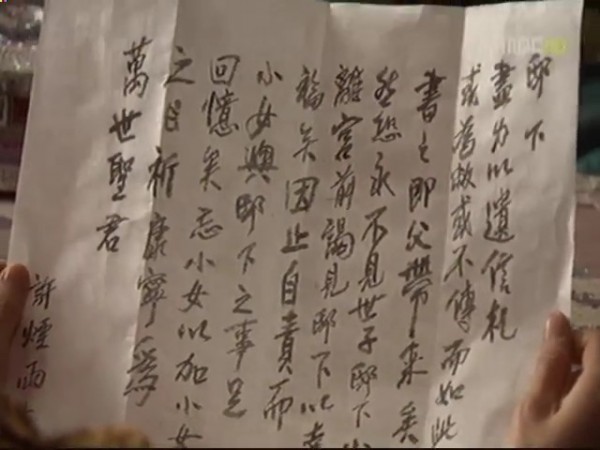 Original Hanja text:
邸下
尽力以遗信札
或为救或不传而如此书之即父带来矣
然恐不见世子邸下
离宫前碣见邸下以幸福矣因止自责而
小女与邸下之事足回忆矣忘小女以加小女之目祈康宁为万世圣君
许烟雨上
Your Majesty, I exhausted all my strength to write this last letter for you, may be you can see it, or may be you won't see it, just let it stay here, it doesn't matter. After writing this letter, father will bring over the drug, and I afraid that I will part with Your Majesty in this life. Originally I thought I would never see Your Majesty before leaving the palace, but able to meet you for one last time is already my greatest happiness. Please do not blame yourself, the thing between Your Majesty and me, is enough for me to recall this whole life. Please forget me, I will use my remaining days of life to pray everyday, praying that Your Majesty is healthy, eternal peace, everlasting imperial king.