Yoon Seung Ah who is starring in MBC drama series The Moon that Embraces the Sun is changing her costume for the first time.
Yoon Seung Ah who is playing the role of guard warrior for Yeon Woo (Han Ga In), Seol, is getting attention for appearing in 9 episodes consecutively since debuting in episode 6 in just one outfit. She who has always been wearing the sky blue robe until episode 14 has eventually changed into a demure hanbok in episode 15 broadcast on February 22nd, 2012. After the stills of her change of clothing, she is attracting attention. Especially that the change of Yoon Seung Ah's clothing into hanbok happened after Yeon Woo regains her memory, has also made the expectation of viewers heighten.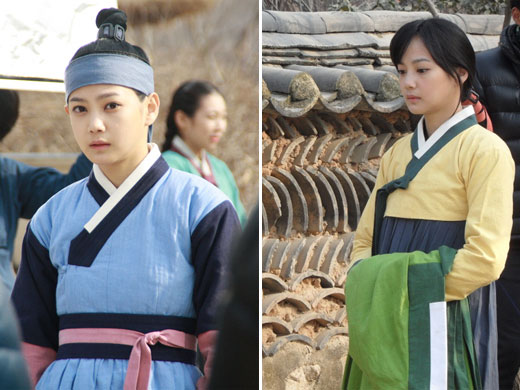 The management agency of Yoon Seung Ah said, "Although it's not a gorgeous clothing, just a casual wear, but because of wearing a skirt, but it's more excited. Also more cautious during action."
On the other hand, as the memory of Yeon Woo recovers, it also makes the guard warrior Seol changes.