The two warriors of The Moon that Embraces the Sun, Seol (Yoon Seung Ah) and Woon (Song Jae Rim) meets through "sword."
In MBC TV Wednesday and Thursday drama series The Moon Embracing the Sun, Seol who always been protecting Yeon Woo and Woon who is the imperial guard of the king stage the swordplay action scene, the swordsmanship of Seol is similar with Woon.
Seol who has always been by the side of Yeon Woo since young until now after she lost her memory, will engage in a duel with Woon who is the trusted follower by the side of Lee Hwon is known as the best warrior in Joseon Dynasty. The meeting between the two persons attracted people's attention.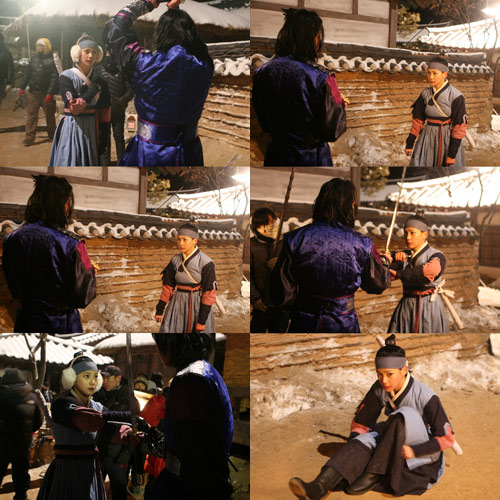 Particularly Woon hasn't knew that fact that Wol who lost her memory is Yeon Woo whom he used to deeply in love, raising suspicion of Woon after the two warriors meet.
On the day's shooting for MBC drama The Moon that Embraces the Sun, the swordsmanship Yoon Seung Ah learned from the martial arts instructor of fencing is been shown up without reservation, winning the praise from the crews.
Before the first shooting, Yoon Seung Ah was learning swordsmanship from a martial arts school. On the film set, Yoon Seung Ah displays the solid swordsmanship strength. The crews praised, "For female actress, the martial arts action scene is probably a very different action, especially the sword is rather heavy, but the swordsmanship displayed by Yoon Seung Ah is more surprising than expected."
Yoon Seung Ah was filming in the chilling cold of -20 degree Celsius temperature. After finished filming, she did not rest and directly checked the action movement with martial instructor, hoping to have a perfect combination with Song Jae Rim. The excellent swordsmanship of Yoon Seung Ah is broadcast on episode 10 on February 2nd, 2012.
Over time, Yoon Seung Ah starts to make a figure with her lively performance in the drama.
via Chosun