The only set of costume for actress Yoon Seung Ah in MBC drama The Moon that Embraces the Sun has set a unique record.
The adult actress for the role of Seol, who is the escort warrior of Heo Yeon Woo (Han Ga In) in The Moon that Embraces the Sun, Yoon Seung Ah, started to appear in the drama from episode 6, and up until episode 14, her same consistent outfit has become a buzz.
In the drama, Heo Yeon Woo and Jan Shil (Bae Noo Ri) who debuted together with Seol do not wear gorgeously, but do change their the attire between traditional Korean hanbok and shaman's outfit. Jang Nok Young (Jun Mi Sun) also showed a variety of apparels which are wore when going to palace or performing state duty or going out.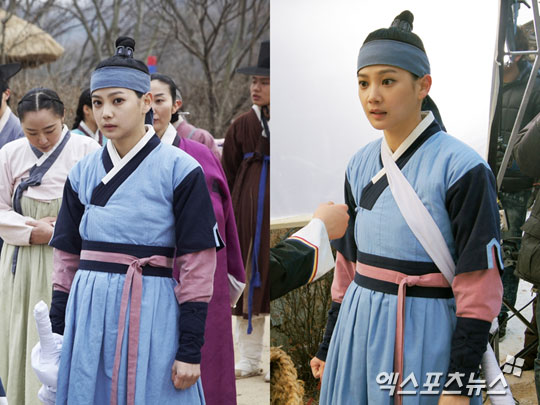 In addition, Hwon (Kim Soo Hyun) and Yang Myung (Jung Il Woo) are frequently changing their outfit. Woon (Song Jae Lim), Heo Yeom (Song Jae Hee) and even Yoon Dae Hyung (Kim Eung Soo) faction have at least 2 to 3 sets of costumes that have been unveiled.
However, since the debut of Yoon Seung Ah as the escort warrior until now, she has always sticked to the same costume of sky blue head wrap and robe, with the sword wrapped in white clothe strapped on her shoulder. The management agency of Yoon Seung Ah, Fantasio, said, "Yoon Seung Ah has two sets of same costume, alternating between wearing and washing. She is the main contributor for saving the costume production cost."
Viewers said, "The concept of frugal warrior," "She probably wants to wear hanbok just like other actresses," "The clothing of sister Seol is also beautiful, it's good if can become the woman of Yeom" and so on.
via Xportsnews