Your Rating
2AM member Jung Jinwoon is releasing an specially made You Walking Toward Me MV for KBS 2TV Monday and Tuesday drama series Dream High 2. The MV was actually shot during by the staff crews using the rest time, and included the scenes of Yoo Jin (Jung Jin Woon) which could not be included into the drama.
In the published MV, there is no gorgeous editing, there is only tranquil atmosphere of the Hongik University and soft voice of Jung Jinwoon, displaying a touch of charm of You Walking Toward Me.
You Walk Toward Me (걸어온다) is a single by Jung Jinwoon that was released back in August 1st, 2011.
Watch the You Walking Toward Me Dream High 2 version MV at YouTube.
An official MV for You Walking Toward Me is also available: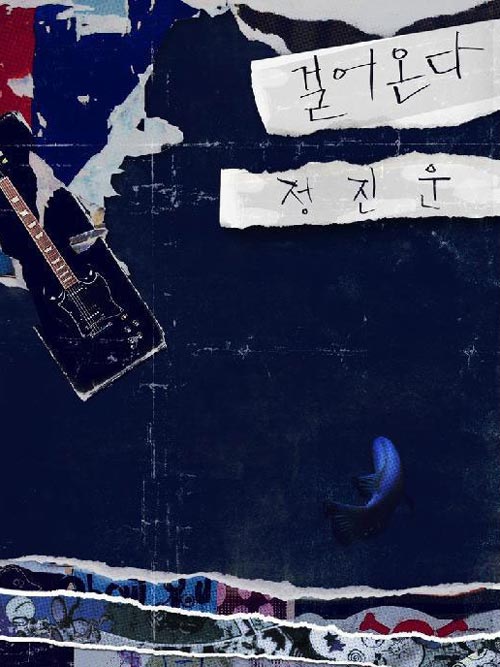 You Walk Toward Me (걸어온다) Lyric
저기 길건너 너의 모습이 보인다
차가운 눈빛으로 나를 바라보다
걸어온다 걸어온다
넌 돌이킬수 없는 말을 늘어놓다
작은 목소리로 추억들을
찢어논다 찢어논다
너에 눈은 파란 바닷물로
나를 덮었고
하얀 담배연기처럼 나를 뱉는다
아무것도 아닌것처럼
마치 파도에 모래성이 쓸려가듯
기억들은 있지도 않았던 것처럼
그렇게 끝내려한다
내가 먼저 너를 뒤로한채 멀어진다
아직 손끝은 너를 향하고 있지만
멀어진다 멀어진다
참을수 없는 아픔들을 간직한채
마지막 너의 모습을 두눈에 담는다
하지만 너에 눈은 파란 바닷물로
나를 덮었고
하얀 담배연기처럼 나를 뱉는다
아무것도 아닌것처럼
마치 파도에 모래성이 쓸려가듯
기억들은 있지도 않았던 것처럼
그렇게 끝내려한다
저기 길건너 너의 모습이 보인다
차가운 눈빛으로 나를 바라보다
걸어온다 걸어온다
You Walk Toward Me (걸어온다) Lyric Romanization
Jeogi gilgeon neo neoye moseubi bo inda
Chaga un nun bicheuro nareul, bara boda
Georeonda, georeonda
Neon dori kilsu eobtneun mareul, neureo nohda
Jageun moksoriro chueok deureul
Jjijeo nonda, jjijeo nonda
Neo e nuneun paran badat mullo nareul deopeot go
Hayan dambae yeongi cheoreom nareul baet neun da
Amugeot do anin geot cheoreom
Machi pado e morae seongi sseullyeo ga deut
Gieok deureun ijji do anhat, deon geot cheoreom
Geureohke, kkeut naeryeo handa
Naega meonjeo neoreul dwiro hanchae meoreo jinda
Ajik son kketeun neoreul hyang hago ijjiman
Meoreo jinda, meoreo jinda
Chameulsu eobtneun apeum deureul, ganjik hanchae
Majimak neoye moseubeul du nune dam neun da, hajiman
Neo e nuneun paran badat mullo nareul deopeot go
Hayan dambae yeongi cheoreom nareul baet neun da
Amugeot do anin geot cheoreom
Machi pado e morae seongi sseullyeo ga deut
Gieok deureun ijji do anhat, deon geot cheoreom
Geureohke, kkeut naeryeo handa
Jeogi gilgeon neo neoye moseubi bo inda
Chaga un nun bicheuro nareul, bara boda
Georeonda… georeonda…
You Walk Toward Me (걸어온다) Lyric English Translation
I see you from across the street
With cold eyes, you look at me
And you walk to me, you walk to me
You spit out words that cannot be taken back
With a small voice, you take all our memories
And rip them apart, rip them apart
Your eyes covered me with the blue ocean
And you spit me back out like white cigarette smoke
As if I'm nothing
Just like a sandcastle crumbling with the waves
Just like our memories were never there
You end it like that
I turn around first and get further from you
Although the tips of my hands are still toward you
I'm getting further, I'm getting further
As I hold in this pain that I cannot endure
I try to close my eyes with the last image of you but…
Your eyes covered me with the blue ocean
And you spit me back out like white cigarette smoke
As if I'm nothing
I see you from across the street
With cold eyes, you look at me
And you walk to me, you walk to me