Though the final list of nominees for the SBS Drama Awards that is going to be held at the end of the year hasn't yet been published, but the candidates for the Daesang award (top award) have surfaced, where Han Suk Kyu, Jang Hyuk, Park Shin Yang and Soo Ae become the front-runner, predicted by South Korean media.
The dramas produced by SBS this year have not been inferior than KBS. Dramas such as Deep Rooted Tree, Warrior Baek Dong-soo, Sign, Midas, A Thousand Days' Promise, City Hunter, Protect the Boss and so on, have gained high ratings and well received by viewers. Other than who will win the best actors and best actresses awards, the only actor who will win the Daesang award at the end of the year is attracting attention of netizens. South Korean media has selected the actors most likely to win the award as the two lead actors in Deep Rooted Tree, Han Suk Kyu and Jang Hyuk, Park Shin Yang of Sign and Soo Ae of A Thousand Days' Promise.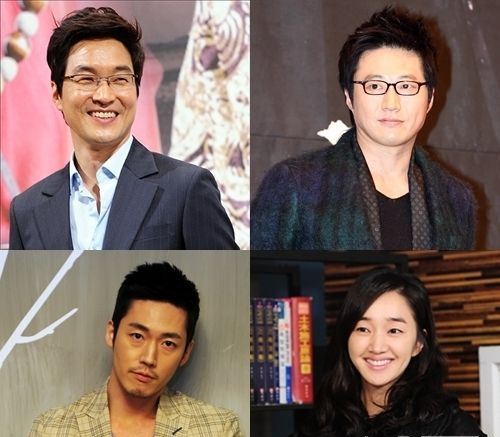 Currently airing Deep Rooted Tree's ratings have exceeded 20% mark, and is one of the top rated drama for SBS this year. Han Suk Kyu who plays the role of King Sejong in the drama can be considered as skillful actor, although he has not appeared on TV screen for 16 years, the acting is not stepping backward but continues to breakthrough forward, the success of Deep Rooted Tree among viewers in some point has to credit to his acting, and as such he is the hot pick among many Korean media prediction. And another lead actor of the same drama Jang Hyuk is also a candidate to win the Daesang award. In 2011, other than having good performance in Deep Rooted Tree, his earlier project Midas was also a high rated and good reputation TV series, undoubted acting made him an actor loved nationally.
And the first forensic reasoning drama in South Korea, Sign, has been very popular in 2011. The role of legal examiner played by Park Shin Yang has left deep impression on viewers, as he perfectly and vividly portrayed the image of freak and stubborn man, transforming from the taste of gentle man in his previous projects.
For female actress, most media speculates that Soo Ae from A Thousand Days' Promise will score, although she has two dramas this year including "Athena: Goddess of War," and she also performed well as female spy in Athena: Goddess of War, but her role in A Thousand Days' Promise who is gradually suffered from Alzheimer's disease obviously allowed her to bring out her original colors.
The annual 2011 SBS Drama Awards will be broadcast live at the night of December 31st, 2011.