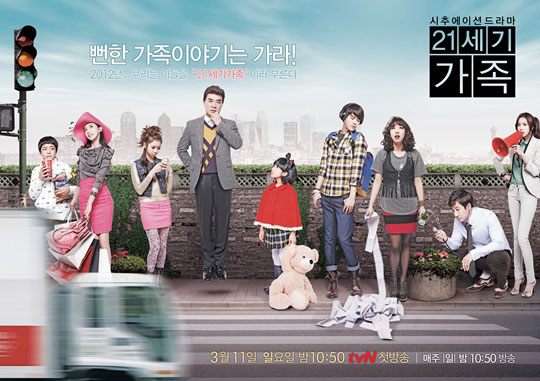 Drama Title: 21st Century Family
Korean Title: 21세기 가족
Romanization: 21segi Gajog
Chinese Name: 21世紀家族
Japanese Name: 21世紀家族
Genre: Drama
Episodes: 8
Broadcast Place: South Korea
Broadcast Network: tvN
Broadcast Period: 11 March 2012 – 29 April 2012
Language: Korean
Air time: Sunday 10:50 PM
Preceded By: –
Followed By: –
Plot Summary / Synopsis
21st Century Family tells the story of clumsy married life between 50 year-old plus middle-aged man and 30 year-old plus young woman, social life and love relationship of an independent 30 year-old plus leftover lady, and the worry of 880,000 won generation in real world.
Cast
Lee Duk Hwa (이덕화) as Lee Duk Hwa
Oh Seung Hyun (오승현) as Oh Eun Mi (오은미)
Oh Yoon Ah (오윤아) as Lee Geum Pyo (이금표)
Lee Hoon (이훈) as Lee Seong Gi (이성기)
Production Credits
Director: Lee Min Chul (이민철)
Writer: Kim Hyun Hee (김현희)
Official Site
Official Photo Gallery
21st Century Family OST – Happy Together
Watch online with English subtitle (not yet available).
Watch online with Chinese subtitle (not yet available).
News, Interview and Behind the Scenes
Photo Gallery