Your Rating
The 1st OST (original soundtrack) for tvN's drama series 21st Century Family is released on March 9th, 2012, with the introduction of the song with the title of Happy Together. Though it's the "OST" for the drama, the song is not original at all, as it's the English song first released by The Turtles in 1967.
The song of Happy Together is sang by Super Brothers (슈스케 브라더스), a band consisting of Kim Do Hyun (김도현), Min Hun Gi (민훈기) and Lee Seung Jun (이승준) from Superstar K3 (슈퍼스타K 3).
The song is written by Garry Bonner and composed by Alan Gordon.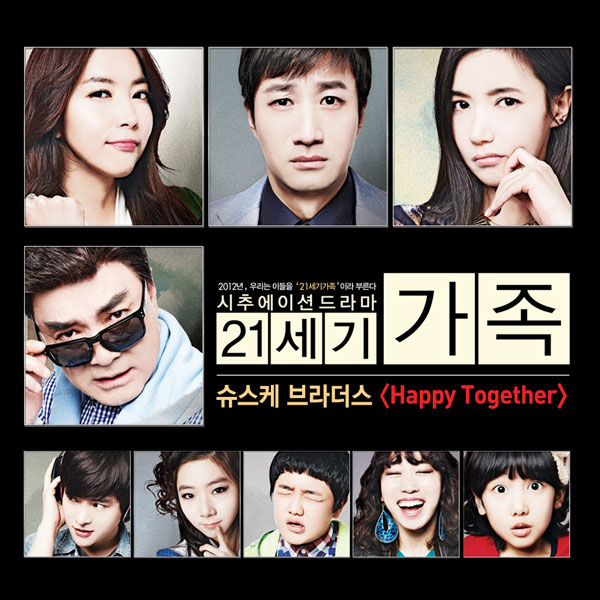 21st Century Family OST Track List
Happy Together – Super Brothers
Happy Together – Instrumental
Listen to Happy Together at YouTube.
Happy Together Lyric
Imagine me and you, I do
I think about you day and night, it's only right
To think about the girl you love and hold her tight
So happy together
If I should call you up, invest a dime
And you say you belong to me and ease my mind
Imagine how the world could be, so very fine
So happy together
I can't see me lovin' nobody but you
For all my life
When you're with me, baby the skies'll be blue
For all my life
Me and you and you and me
No matter how they toss the dice, it has to be
The only one for me is you, and you for me
So happy together
I can't see me lovin' nobody but you
For all my life
When you're with me, baby the skies'll be blue
For all my life
Me and you and you and me
No matter how they toss the dice, it has to be
The only one for me is you, and you for me
So happy together
Ba-ba-ba-ba ba-ba-ba-ba ba-ba-ba ba-ba-ba-ba
Ba-ba-ba-ba ba-ba-ba-ba ba-ba-ba ba-ba-ba-ba
Me and you and you and me
No matter how they toss the dice, it has to be
The only one for me is you, and you for me
So happy together
So happy together
How is the weather
So happy together
We're happy together
So happy together
Happy together
So happy together
So happy together (ba-ba-ba-ba ba-ba-ba-ba)