The new KBS 2TV Monday and Tuesday drama series Love Rain is debuting on March 26th, 2012. Here's the three reason to look forward to the drama.
Reason 1: Jang Geun Suk and Yoona each person plays two roles in 1970s and 2012.
Jang Geun Suk is playing the role of gentle, emotional and beautiful art school student in 1970s and playboy Seo Joon in 2012, the complete opposite roles demonstrate his acting skills. If saying that Jang Geun Suk was attracting the young women with his previous films, this time he is challenging standard drama through Love Rain, showing an even more deepen vision and mature acting. Girls' Generation's Yoona appears as campus belle Yoon He in the 1970s and active undergraduate Ha Na in 2012. As a member of SNSD, Yoona is famous for her charm on stage, and she will step forward on her acting career through this drama.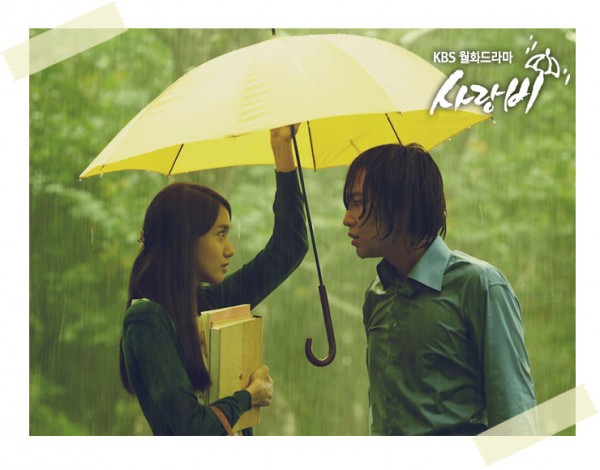 Reason 2: Have Middle-Aged Love
Apart from the young actors, the casting of skillful middle-aged actor Jung Jin Young and Lee Mi Sook is another surprise. Lee Mi Sook is playing role of Yoon He in 2012. She who had to separate with In Ha for some reason 32 years ago is now a horticulture specialist. She brings up her only daughter Ha Na alone after marrying with ordinary man who later passed away. At the same time she is looking at growing up of Ha Na, she meets her first love In Ha by chance, staging sunset love. Jung Jin Young plays the role In Ha at middle age. After separated with Yoon Ha, he married with daughter of wealthy family. The couple who has no feelings to each other divorced after giving birth to son Seo Joon. He who used to be a student in arts school is now professor of arts university. Living alone, and finally meets the first love Yoon Hee at a rainy day.
Reason 3: The cooperation of director Yoon Seok Ho of Winter Sonata fame and screenwriter Oh Soo Yun, after Autumn in My Heart.
Love Rain is another cooperation between director of Winter Sonata and Autumn in My Heart, Yoon Seok Ho with Oh Soo Yeon after 10 years. Both person declare the return to the standard TV series with this drama through sensibility of old era and delicate acting. Comparing with romantic drama series with hasty performance of rapid development and indecency, more pure sensibility between man and woman can be seen in this drama. In particular, the drama is not only purely about love story, it also especially stresses on the memories about the change of era. The long hair style of band members during 70s and 80s, and the ban on mini skirts, student movement, are making people cherishes on the memory of them.