The three reasons to watch the new SBS Wednesday and Thursday drama series Rooftop Prince starring actor JYJ's Micky Yoochun and actress Han Ji Min are as follow.
▲ Awesome imperial robe that will triumph
Rooftop Prince tells the story of crown prince of Joseon Dynasty, Lee Gak, with his entourage of ministers, time travel through 300 years to come to modern era. In particular, after 2011's Deep Rooted Tree and 2012's The Moon that Embraces the Sun gave the king of Joseon Dynasty distinctive popular positioning, the drama plans to continue the trend.
Park Yoochun who has been well received with his appearance in KBS2′ Sungkyunkwan Scandal will display the charm of imperial robe that is different from Han Suk Kyun and Kim Soo Hyun. At the same time, Park Yoochun is also actor of character in 300 years in future, Yong Tae Yong, displaying another reason to watch the drama which is different from the previous historical drama.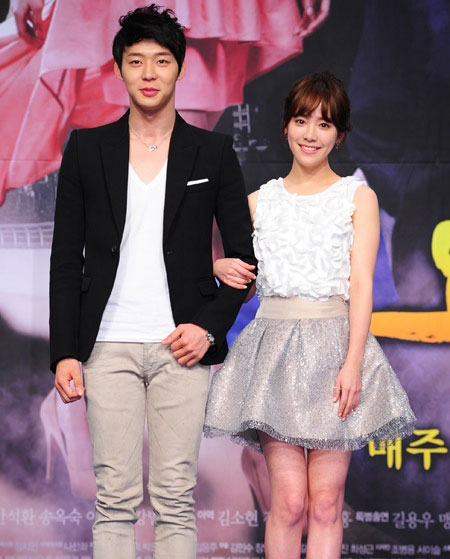 ▲ Actors who are successful in the previous films
The point that all actors who are starring in Rooftop Prince have successful dramas on their record is also one of the reason that attracts attention. JYJ's Micky Yoochun received high popularity when starring in Sungkyunkwan Scandal. Actress Han Ji Min also achieved high box office through TV series Yi San, Cain and Abel, and movie Detective K: Secret of the Virtuous Widow.
In addition, Lee Tae Sung's Hooray for Love and Jung Yoo Mi's A Thousand Days' Promise are also received attention. Jung Suk Won's Ojakgyo Family and The Moon that Embraces the Sun's Lee Min Ho, Deep Rooted Tree's Choi Woo Shik are all occupied the top ranking in term of viewership ratings for the drama's time slot, the rich experience and well recognized acting are noteworthy.
▲ Production team that deserved its reputation
The screenwriter of Rooftop Prince, Lee Hee Myung, produced 1990s drama series Mr. Q (1998) which recorded highest ratings of 45.3%, Tomato (1999) that also recorded highest ratings of 52.7%. Entering 2000s, The Successful Story Of A Bright Girl (2002) also recorded highest ratings of 44.6%. With many successful works, it's planned to set off the wave of fashionable drama.
On the other hand, Shin Yoon Sub who becomes famous with Kaist produced the My Lovely Fool (2006) which recorded the highest ratings of 30.1%, playing a role in the SBS's resurgence in Friday drama.
Rooftop Prince premieres on 9:55pm of March 21st, 2012.
via MyDaily