Recently in early February 2012 , the behind the scene photos of Han Hye Jin who is starring in JTBC drama series Syndrome were made public.
After Syndrome drama series debuted on February 13th, 2012, it has won better than expected praise with rapid development that is full of tension and vivid surgery scenes.
Han Hye Jin is playing the role of Lee Hae Jo who is kind-hearted and smart. In the published photos, in order to perfectly portray the role of Lee Hae Jo, Han Hye Jin was just wearing a uniform to study the script despite the cold weather. The happiness look of Han Hye Jin who put her hand on the heater for warming has let the fans both felt bad and sympathized.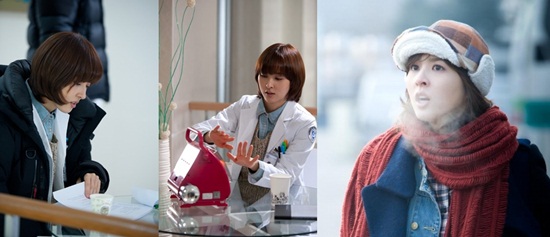 Especially before the broadcast of the drama, the photos of Han Hye Jin dangerously stands in front of the bus were published, earning her the title of "super doctor." Other than innocent intellect appearance, and unique and meticulous acting, Syndrome is exuding the charm of Han Hye Jin to 200%, and is expected to capture the heart of the male audience.