The SBS hit Monday and Tuesday TV series A Thousand Days' Promise showed the intense kiss and bed scene of Soo Ae and Kim Rae Won again, attracting complaints from viewers. The drama which experiences downtrend in ratings recently had a decline in rating again for episode 17 broadcast on December 12th, 2011, with three episodes to grand finale the drama is now in crisis.
A Thousand Days' Promise written by screenwriter Kim Soo Hyun is a poignant romantic drama, telling the story of Kim Rae Won disregards objection of family in order to protect the lover Soo Ae who is about to suffer from dementia and amnesia. But the scene of stripping and kissing appeared right on first episode. At that time, it had been criticized by viewers as exaggerated and felt embarrassed when watching, causing the ordinary ratings for first and second episodes. Subsequently the ratings began to increase due to attractive plot and ranked top among all shows broadcast at the same time slot. But after the new rival Brain debuted in November, its ratings increases with every episode to threaten the position of A Thousand Days' Promise.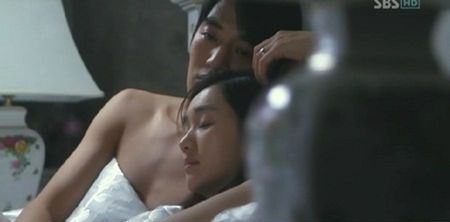 Unexpectedly, the script writer arranged the passionate kissing and intense bed scenes on episode 17 broadcast at the night of December 17th, 2011. Perhaps the original intention was to help to increase rating but the result was exact opposite. The plot of the night told about Lee Seo Yeon (played by Soo Ae) whose dementia's conditions worsen was getting furious after seeing the caring SMS from ex-girlfriend of Park Ji Hyung (played by Kim Rae Won), Nol Hyang Ki (played by Jung Yoo Mi) in his mobile phone. After quarreling, they subsided by kissing and then went to bed for sex.
After the episode finished broadcast, various complaints poured in from family viewers. Some viewers expressed that they were watching with family at that time, leading to embarrassment of children asking. Some other viewers criticized that although it's romantic drama but it's broadcast on normal timing, why there is such a need to show bed scenes again and again. Some of the viewers said it's completely unnecessary, instead it procrastinates the plot, and ruins the innocent image of two actors.
The rating of the episode broadcast on December 12th, 2011 was 14.7%. The ratings for the drama which used to closing to 20% is worrying, but the ratings of powerful competitors KBS2 "Brain" has rose to 13.8%.