Actor Ahn Jae Wook who plays the role of Kang Ki Tae in MBC's 50th anniversary special planning drama series Lights and Shadows was been interviewed by MBC. During the interview, Ahn Jae Wook revealed himself as the person who loves Kang Ki Tae, and answered questions honestly.
Here's the transcript translated into English for the interview. Video follows after the text.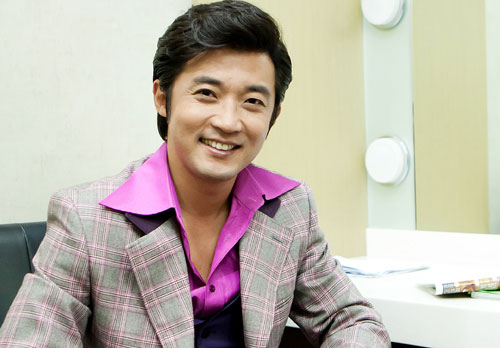 What is the charm of Ki Tae?
Different from bloodthirsty character, it seems like no retaliatory action, has the charm of light and smooth, forthright man.
And the similarity with Ki Tae?
Excluding the part where Kang Ki Tae good in fighting, I think now I am exactly the same with Ki Tae. I am a person who has to live to be Ki Tae until the end of drama. Of all the all the capabilities I was born with, the one that most similar with Ki Tae, has spent all efforts to select them out. Now, I confident that I am exactly the same with Ki Tae.
As an actor, the advantage of character of Kang Ki Tae Jiang?
Just like that drama title 'Lights and Shadows,' in the plot there is glorious part, and darkness part which must must be illuminated. In the drama there is also glorious part of Ki Tae personally, but the dark side of life, that's the darkness opposite to bright personality of Ki Tae will also emerge. As an actor, although has to always deduce the personality of the role, but cannot be limited to within a framework of life, but to let viewers see variety type of life. For this, although has to put in all my efforts to achieve, but it's also my issue. Because with such a charm, so I chose the role of Ki Tae to act as what I wanted.
What's the difficulty in playing the role of Kang Ki Tae?
Because it touches too many things, so there is appearance almost in every scenes. The personality of Ki Tae, from the point of energetic action, it requires two times the energy when comparing with lead character of other drama.
To Ahn Jae Wook, what's meaning of Kang Ki Tae?
Always seem to make up the heart when the project started. The character assigned to me by director and screenwriter, I have to reshape and show it from hair to toe. My whole mind is immersed into Kang Ki Tae. I am Kang Ki Tae, Ki Tae is me. A lot of confusion it is also a great sense of responsibility.
Your first meet with Nam Sang Mi and Son Dam Bi, and their charm?
I met them for the first time in this project. Heard the news of both persons acting in the drama, think that I can cooperate with them just like a harmonized photo. I'm thinking alone of what kind of place and how is it going to meet with Nam Sang Mi and Son Dam Bi. At this time, when I contacted with two persons who have changed the clothes, their tone of speaking, appearance and internal appearance, I feel that really chose the very suitable two persons. Son Dam Bi who plays the role of glorious singer Chae Young and Nam Sang Mi who plays the role of Jung Hye who looked simple and elegant but has a strong heart. Very looking forward to filming with the two actresses.
Can we see the strength of Ahn Jae Wook's dancing in the drama?
From the eventful life of Kang Ki Tae, he will like dancing I guess. But for me, just like troupe members in the drama, is not professional. For giving a chance for viewers to see song and dance, I hope it's not a forceful debut. But personally I hate dancing. Because I can't dance nicely, so I told producer, to delete dance scene. Ha.
Among the songs of 70s, what is your favorite song?
I like the "Beauty" of Sin Jung Hyeon, love peaceful song, also likes song of Nam Jin. Although it is an easy simple catchy melody, but still very much love the song of the era that created light love, and let people immersed into sadness easily.
What's the top treasure of Ahn Jae Wook?
Ki Tae is my treasure number one. I must not let myself hurt, comparing with any othe rtime, I must care more about myself, and manage myself properly, in order to perform healthily. I think this is what so called the moment most care about Ki Tae, and most think for Ki Tae.
Words to the audience?
Separated from drama series for a long time, finally meet with viewers again. This is the project selected after careful consideration, hope can present as a wonderful gift to viewers. Everybody's support has given me strength, and I will put more effort into acting. Please give me love to Lights and Shadows. Thanks.
Watch the Ahn Jae Wook interview video clip:
via MBC