The popular "sister You Qing" Ariel Lin Yi Cheng was celebrating the anniversary of Vieshow Cinemas launch on January 4th, 2012, and on Januar 8th, 2012, she will also welcoming her 10th anniversary of debuting in entertainment industry. Ariel Lin admitted that time flies, but she smiled and said that fortunately she still looks young. And the movie version of In Time with You starring Ariel Lin is entering intense discussion, the director hopes that the movie can premiere by end of the year.
Celebrating the birthday for the theaters, Ariel Lin sang birthday song and cut the cake, she smiled and said, "I like to watch movies." Ariel said that she is super fans of movies privately, although she is busy with the English exam preparation recently, but still took some time to watch some festival films, and Tom Cruise's Mission Impossible: Ghost Protocol" is in her most wanted to watch list.
New hope for the new year. Ariel Lin said with a laugh, "I hope can see the first light of the morning of 2013 with everyone."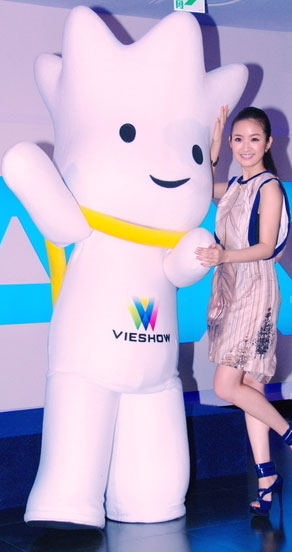 * Superb acting, working hard on singing
The movie Love Sick starring Ariel Lin who takes the throne of young mature woman was getting good result of more than 4 million New Taiwanese dollars. And whether the movie edition of In Time with You will premiere on year end? Will it affects her plan to study in UK? Ariel Lin said that January 8th is the birthday of director, and is also her 10th anniversary of debut, when the time comes will have a good discussion.
Debuted for a decade, Ariel Lin said with a feeling, "I feel quite wonderful, time really flies without waiting for people." She gasped and said, "Fortunately, I does not look too old now!"
As for the Taichung New Year's Eve countdown concert, she was criticized by netizens as sang badly, Ariel Lin frankly admitted that she indeed warmed up and shouted at the hotel to help open the throat, she helplessly said, "To be honest this year is not the first time, but it does need to be amended." The packed crowd of New Year's Eve countdown celebrate had made Ariel Lin too nervous and sang wrongly. She said she will adjust her condition in future, will be making persistent efforts.
via Epoch Times