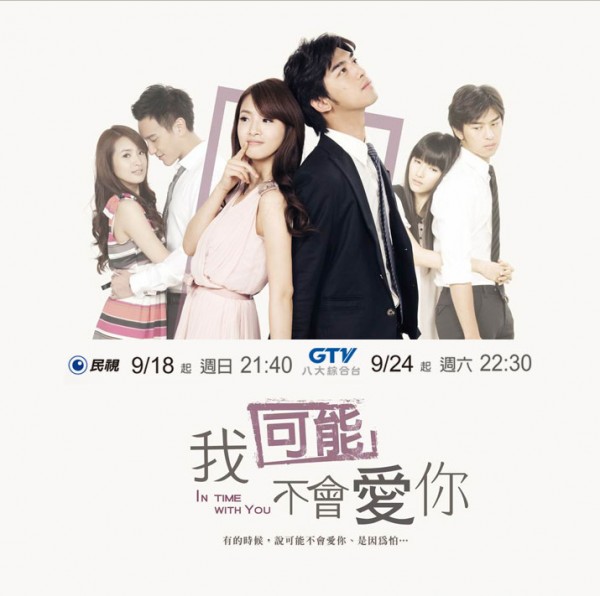 Drama Title: In Time with You
Also Known As: Wo Ke Neng Bu Hui Ai Ni
Chinese Title: 我可能不會愛你 / 我可能不会爱你
Previously Known As: I May Not Love You / Coffee Price
Genre: Romance
Language: Chinese
Episodes: 13 (or 22 for some markets)
Broadcast Place: Taiwan
Broadcast Network: GTV / FTV
Broadcast Period: 18 September 2011 (FTV) and 24 August 2011 (GTV)
Air Time: Sunday 21:40 on FTV and Saturday 22:30 on GTV
Preceded By: Hayate the Combat Butler
Followed By: Skip-Beat!
Cast
Ariel Lin Yi Chen (林依晨) as Cheng You Qing (程又青)
Bo-Lin Chen (陳柏霖) as Li Da Ren 李大仁
Andrea Chen Kuang Yi (陳匡怡) as Maggie
Sunny Wang (王陽明) as Ding Li Wei (丁立威)
Luo Bei An (羅北安) as Cheng's father (程爸)
Lin Mei Xiu (林美秀) as Cheng's mother (程媽)
Ying Wei Min (應蔚民 / 小應) as Cheng Guan Qing (程冠青)
Ma Nan (馬囡) as Guan Qing's wife (大嫂)
Jamie Yin Qi (殷琦) as Cheng Mei Qing (程美青)
Xie Yu Wei (謝宇威) as Mei Qing's husband (姊夫)
Zhou Dan Wei (周丹薇) as Li's mother (李媽)
Meng Geng Ru (孟耿如) as Li Tao Tao (李淘淘)
Jin Shi Jye (金士傑) as Bai Shu (白叔)
Ma Shi Li (馬世莉) as General Manager (總經理)
Joelle Lu (陸明君) as Grace
Yu Han Mi (余函彌) as Lala
Li Wei Wie (李維維) as Zi Lin (子琳)
Na Tie (拿鐵) as Nic
Jerry Huang (黃志瑋) as Henry
An Wei Ling (安唯綾) as Mei Mei (美美)
Ya Zi (丫子) as Lu Xing Di (盧辛蒂)
Tsai Chang Hsien (蔡昌憲) as Di Shu (地鼠)
Zeng Wei Hao (曾威豪) as Da Cong (大叢)
Liu Yi Hao (劉以豪) as Cho Mei Nan (趙美男)
In Time with You Cast Characters Description
Production Credits
Director: Qu You Ning (瞿永寧)
Scripwriter: Xu Yu Ting (徐譽庭)
Plot Summary / Synopsis
Cheng You Qing is a section manager for shoe department of a departmental store, used to have several boyfriends, bringing sadness, body hurt, and heartbroken. On the day of 30th birthday, she is still alone, and receives an email on "the symptoms of premature aging" from Li Da Ren, her best friend of 14 years, and the only one who wishes her Happy Birthday with a true heart. Li Da Ren is a ground supervisor for an airline, young and promising, have several girlfriends before, but the relationship lasted very short.
They have not been on the same term since secondary school, but under strange combination of circumstances, they manage to stay together, but are always just friend who can't fall in love. Unable to accept that Li Da Ren is like a fine wine that will get better with age and she is like a grape that will dry into a raisin as years go by, she makes a bet with Li to see who will get married first before they turn 35. The winner will get a NT$100,000 red packet money.
And, she who fells she is attractive starts to look around for a potential husband, she discovered that she was surrounded by unacceptable candidates, like gay assistant or cheating ex-boyfriend. The only man who can love her despite her ill temper and stubbornness is her best friend. The only problem was that they both swore that they were not or will ever be romantically attracted to each other.
He used to tell her, I may not be loving you. In return, she rebuffed: Thank you, appreciate it. He doesn't know why, that his only criteria to be his girlfriend is that must accept her existence. And, he doesn't know why he can't let her be alone, and he doesn't even know why he and her world is mixed together. Is it because they're too close just like a family, and that's why they can't be together?
He used to write a song for her, but can only sing it alone. After a long time, she only gets to know that, I may not love you in the lyric, is actually… I love you.
Episode Synopsis
Episode Ratings
| Date | Episode | Rating | Viewership Ranking |
| --- | --- | --- | --- |
| 18 September 2011 | 1 | 1.41 | 2 |
| 25 September 2011 | 2 | 1.24 | 2 |
| 2 October 2011 | 3 | 1.65 | 2 |
| 9 October 2011 | 4 | 2.09 | 2 |
| 16 October 2011 | 5 | 2.34 | 2 |
| 23 October 2011 | 6 | 2.56 | 2 |
| 30 October 2011 | 7 | 2.64 | 2 |
| 6 November 2011 | 8 | 3.11 | 2 |
| 13 November 2011 | 9 | 3.07 | 2 |
| 20 November 2011 | 10 | 3.62 | 2 |
| 27 November 2011 | 11 | 3.54 | 2 |
| 4 December 2011 | 12 | 3.65 | 2 |
| 11 December 2011 | 13 | 5.51 | 1 |
Source: ACNielsen
Trivia
Based on adaptation of '1st Shop of Coffee Prince.'
In Time with You may be the last drama of Ariel Lin, as she announced during filming of the drama to decrease her workload so that her brain cyst won't reoccurred. The heavy workload of shooting In Time with You had caused her to have have tonsillitis. She has been diagnosed with a brain cyst and off screen for three years previously.
The English title of the drama "In Time with You" means the time of which lead roles in the drama together, and has the intention to tell the type of relationship that lasts forever.
Official Site (GTV)
Official Site (FTV)
In Time with You Trailers
In Time with You – 50 Signs of Premature Aging
In Time with You Opening Theme Song – Still Will
In Time with You Closing Theme Song – Wings
In Time with You OST – Stand on Tiptoe Love
In Time with You OST _ I Will Not Like You
In Time with You OST – Friend of Ordinary Friend
In Time with You OST – Starting Now
In Time with You OST – Revolving Door
Watch online with English and Chinese subtitle at viki.com.
Watch online with Chinese subtitle at youku.com and sohu.com.
News, Interview and Behind the Scene
Photo Gallery