Ariel Lin Yi Chen is appearing with a wig in episode 10 of In Time with You (I May Not Love You), attracted the comments from netizens such as "Oh my god, this hair style is bad," "No, please give me back the long hair." The discussions of the PTT forums is a land of wailing and despair.
The trust was revealed on November 22nd, 2011. Actually she almost really cut her long hair which is the result of 11 years for real for the sake of drama, but because of accepting an ads of well-known hair product, so she wore the wig for filming. She admitted, "Actually during mid of this year, I really had the urge to cut short the hair, but as the result of the hair product commercial found me, and this endorsement I have waited for 10 years, so I can only say that fate is very intriguing."
She becomes the spokesperson for three major brands of P&G – Pantene, Head and Shoulders, and Vidal Sassoon, creating a new record for hair products ads.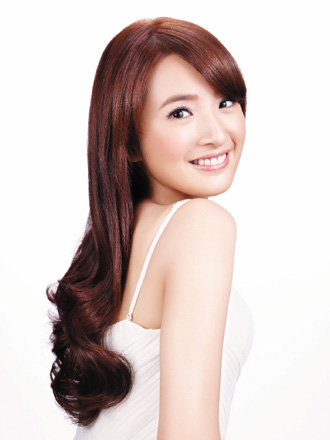 Yesterday the manufacturer revealed that initially they're looking for different spokesperson for each of its brands, but as Ariel Lin Yi Chen not only is favored for her personality traits, hair quality and hair quantity, previously Ariel Lin Yi Chen donated 20cm of her hair without hesitation in order to support charity, even though she did not have any working relationship with P&G when P&G was asking for hairs of actresses when holding a charity event previously. As such, P&G decided to make an exception to appoint her to be the spokesperson for Taiwan and Hong Kong area, with the endorsement fee of nearly 10 million Taiwanese dollars.
During the process of planning and shooting of the commercial ads, Ariel Lin Yi Chen was busy with the drama In Time with You at that time. The manufacturer once and for all brought all the equipments, actor's costumes and paraphernalia to the house of Cheng You Qing in the drama, waiting for the gap in filming to fix the set. She then spent one hour a day to care for her hair, and she said that if the other half willing to help her to apply hair mask, then she will consider to entrust her life to him.
via UDN