Due to popularity of Shin Ha Kyun who plays the role of neurosurgeon Lee Kang Hoon in KBS2 drama series Brain, his fashion has also attracted attention. His clothing in Brain has won praises. "Why do you fascinate by Shin Ha Kyun?" The female viewers around 30 years old said, "He is very stylish in white coat in the drama, so should award a prize for his fashion stylist." Another viewer said, "Shin Ha Kyun's suit style looks very intellectual, with exceptional charm, fascinating the female audience."
Therefore, TVReport specifically interviewed manager Shin Re Yon who is the personal fashion stylist of Shin Ha Kyun for 8 years and in charge of costume in Brain via telephone, talking to her about the clothing of Shin Ha Kyun in Brain.
– What is the concept of Shin Ha Kyun's fashion?
"Every time the clothing is set after reading the script and according to up and down of Kang Hoon's emotion. When Kang Hoon is in bad mood, generally is shirt without tie, and recently when the position is getting higher and is doing good, will use the coat and glasses.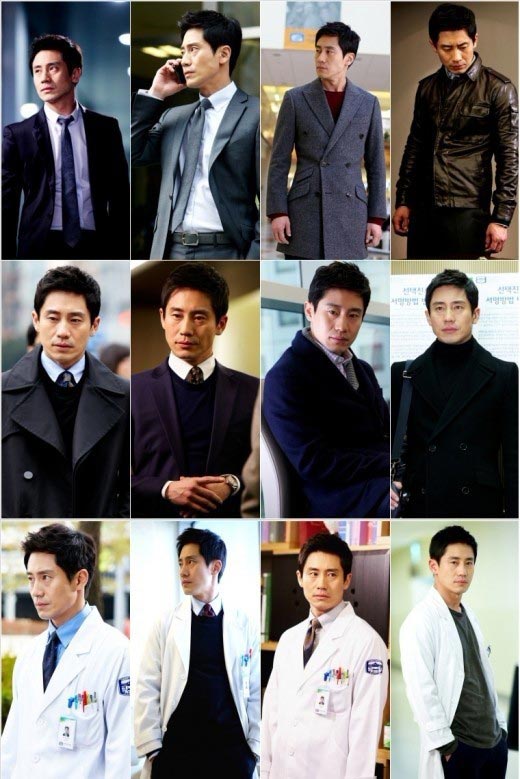 – Heard that when changing clothes, even the socks are changed for a different one?
"the white coat of doctor covers a lot of clothes, so we spend efforts on places that are exposed. In addition, Shin Ha Kyun is not tall, the pant uses a short version, so the focus is on socks and shoes."
– What's the brand and price of the clothes?
"The setting of Lee Kang Hoon in the drama is not a wealthy person, so there is more of fashion of simple, agile and dandy. Sometimes he wore high class fashion worth millions of Korean won, but also a lot of times when he wears normal clothes. We have several sponsors from branded fashion for custom-made clothes."
– When deciding the concept of clothing, how much does Shin Ha Kyun participates in it?
"It's the level of discussing about fashion while reading the script. Shin Ha Kyun respects each person's areas of expertise, apart from his acting, he leaves the others to hair stylist and fashion stylist."
– The voice of "fashion stylist should receive an award" is many.
"Never heard of it, only heard on the set. Every responded well to the clothing, really happy (laughs)."
via TVDaily