The drama series "Bridal Mask" which set against the Japanese occupation era unveiled its curtain.
KBS 2TV Wednesday and Thursday drama series "Bridal Mask" which debuted on May 30th, 2012 was receiving warm response.
"Bridal Mask" is an adaptation from the comic "Doll Mask" by Heo Young Man, which depicts the heroes during the Japanese occupation era. Due to the starring of actor Joo Won, Shin Hyun Joon, Han Chae Ah, and Ji Se Yun, it gathered high-profile attention before broadcast.
After lifting the veil on May 30th, 2012, the responses of viewers for "Bridal Mask" are, "Action scenes are great, there is nothing that is embarrassing," "The acting is really great," "It become the opportunity to look back at the painful past," and so on. It can be seen that the acting and action scene in the drama received a lot of concern.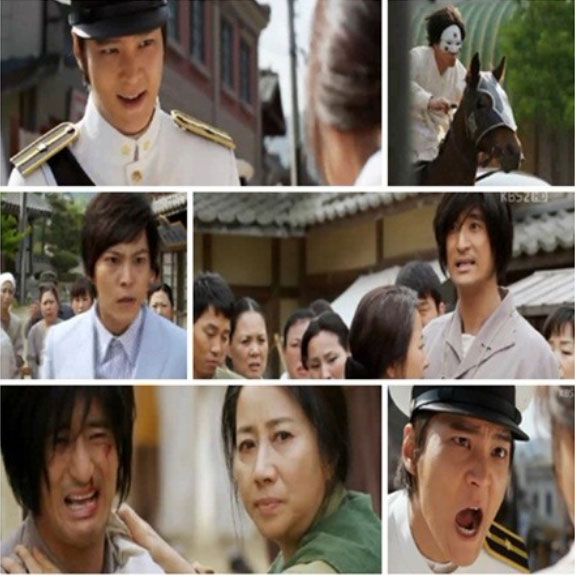 Audience is also curious about who is the "bridal mask" who would appear whenever Mok Dan (Jin Se Yun) is in danger. There are a lot of reactions like "Very curious who is behind the doll mask?" "Looking forward to what kind of scenes will bridal mask have in future," "About to see who is it," and so on.
The acting of Joo Won who plays the role of Jongro police station detective Lee Kang To also received a lot of support. The father of Lee Kang To was killed, and the elder brother also become a fool due to cruel torture. But he is loyal to Japanese Empire. To the acting of Joo Won in the drama which is disgusting yet sadden people's heart, viewers said, "Goosebumps after watching," "Bad guy which is not a bad guy, feel sad but also fear," and so on.
Shin Hyun Joon who plays the role of elder brother Lee Kang San who turned into a fool also won recognition for excellent acting skill. Lee Kang San who admitted to law university with smart brain was implicated due to reading party incident, and become a fool after cruel torture. Shin Hyun Joon naturally portrayed the role of Lee Kang San.
All three main Wednesday and Thursday drama debuted on May 30th, 2012. Among them, how many people will accept the uncommon period drama "Bridal Mask" is under the spotlight.
via Newsen